Renovations continue at Lemon Grove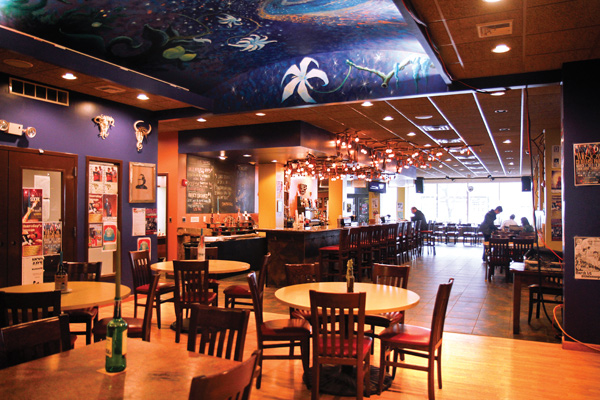 ---
Staff report
YOUNGSTOWN
The Lemon Grove is different things to different people.
To patrons, it's a rustic coffeehouse/bar with eclectic artwork adorning the walls.
To artists, it's a place of business; a place to put their talents on display. There is a stage for musicians as well as an art gallery, the McKelvey Room.
To Jacob Harver, a lifelong city resident and owner of The Lemon Grove, it is "an idea; it isn't a physically stagnant place."
In reality, The Lemon Grove, a downtown Youngstown cafe at 110 W. Federal St., is a business with a creative owner, currently doing business on the ground floor while attempting to re-imagine the building's other floors.
Harver's plan has not been without some trepidation, however.
He reached an out-of-court settlement last year with the landlord of his former location on West Federal Street. A shareholder filed a second suit in 2012 seeking to shut down the business and recoup his investment. That legal action is pending in Mahoning County Common Pleas Court.
Harver, however, continues to move forward to fulfill his vision for the four-story former Woolworth's department store.
Harver was able to obtain the building thanks to a loan secured with the help of the Mahoning Valley Economic Development Corp. The downtown structure not only reveals relics of the city's past, but about 28,800 square feet of potential.
Such potential includes a basement, where walls are adorned with the work of local graffiti artists and whose floors are now riddled with overflow construction supplies. Harver envisions this as an "underground concert hall."
Harver envisions the second floor, currently filled with old typewriters and office supplies, as a row of boutique businesses renting out space, such as a record store or vintage clothing stores.
The third floor, which at one time was the sales offices and kitchen of Woolworth's, one day will be an artists' workshop, another art gallery and even a recording studio, Harver said.
He calls it "The Factory" with a nod toward Andy Warhol.
Lastly, he wants to re-imagine the empty fourth floor into two high-end apartments with a shared spiral staircase leading to a potential rooftop hangout for creative young people.
"The purpose of The Lemon Grove and this building is to further that artistic movement in Youngstown," Harver said. "There is and has been so much culture here, and our job is to make sure the culture stays."
The Lemon Grove's dedication to the arts is, for Harver, a natural fit, because as he sees it, "the arts community literally kept downtown standing. The new downtown still owes a debt to the artists."
In the end, The Lemon Grove may be a lot of things to a lot of people, but the one thing it isn't, is finished.
Harver, lacking a completion date but full of ideas — down to his desire for ductless heating systems for the stores and apartments — wants to create a "cultural center for the region. I want a gathering space for art to happen. Anything that goes on in this building will be rooted in culture, community and art. Rooted in making life interesting."
More like this from vindy.com