Cardinal Mooney boys oust top-seeded Poland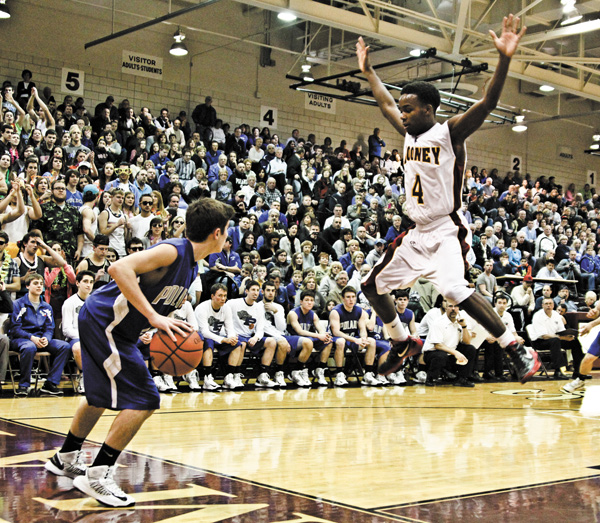 ---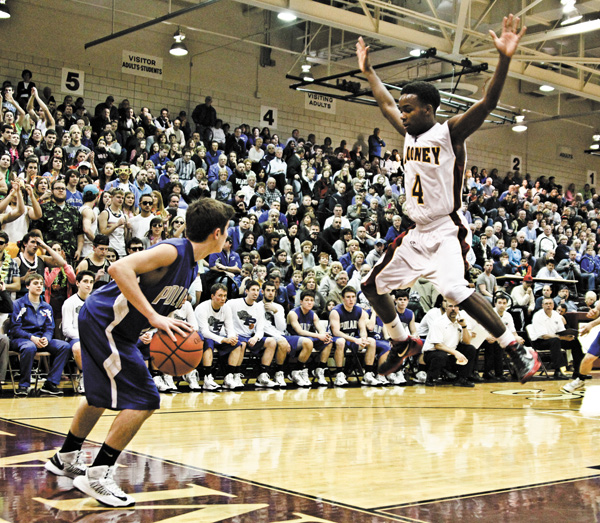 Photo
Cardinal Mooney's George LeFlore (4) leaves his feet to try to prevent Poland's Nick Gajdos from inbounding the ball during a Division II district semifinal Monday night at Boardman High School. Cardinal Mooney beat top-seeded Poland, 51-33.
By Tom Williams
BOARDMAN
After missing much of the season recovering from surgery on his knuckle, not much was expected of Cardinal Mooney junior forward Mark Handel as the postseason began.
The secret is out now, though, after Handel's sharp play spearheaded the unseeded Cardinals to a 51-33 upset of top-seeded Poland in Monday's Division II semifinal at Boardman High.
Handel scored 15 points and helped the Cardinals (11-11) break through the Bulldogs' defensive schemes.
"He's unbelievably quick, you can't underestimate his feet," said Mooney senior center Doug Caputo. "He was hurt half the season so nobody really knew about him."
Handel said the Cardinals' plan was to get in the faces of the Bulldogs as much as possible to disrupt their long-range shooting.
"They're not much bigger than us so we focused in closing out on shooters, switching on screens," Handel said. "A team like that, if they start hitting 3s ... Thank [goodness] that they weren't."
Except for junior forward Jacob Wolfe's sterling play, Poland (21-3) never found its comfort zone. From the second quarter until midway through the fourth quarter, Wolfe was the only Bulldog to score as the Cardinals built a 40-25 lead.
"You have to give a ton of credit to their kids," Poland coach Ken Grisdale said. "Their kids defensively were up in us. They got through screens really well. They cut the space that we normally have where we get a little more comfortable to catch and shoot.
"They took us out of almost everything we wanted to do."
Baskets by George Chammas and Wolfe gave the Bulldogs a 13-9 lead after one quarter. Then the Cardinals turned up the defensive heat, coming within 28 seconds of shutting out the Bulldogs in the second quarter. Wolfe hit a 3-pointer to slice Mooney's lead to 21-16 at halftime.
"We didn't force stuff," Mooney coach Brian Danilov said. "You can't force stuff against Poland because they will make you pay."
Wolfe, who finished with 20 points and six rebounds, scored seven in the third quarter as the Cardinals extended their lead to 32-23.
Kevin White connected on a 3-pointer with 4:13 remaining, reducing Mooney's lead to 40-28. But the Bulldogs were unable to reduce their deficit to single digits.
"Poland is a great team [with] great coaching, they know how to play real well," said Caputo, one of six Mooney seniors who at least earned one more game. "It means the world [to us] — it's great knowing we have one more game to play."
When Caputo dunked with 2:03 remaining for a 48-33 lead, the contest was sealed.
"You can never say it's over, but after Caputo threw the dunk down, I think the momentum was all ours," Handel said.
The Bulldogs made five of their 22 3-point attempts. Many were taken out of desperation in the second half.
"At times, we settled for 3s because that was the only thing [where] there was a little bit of breathing room," Grisdale said.
Cardinals freshman Andrew Armstrong scored nine points. "He doesn't play like a freshman," Danilov said. "He's come a long way for us."
The Cardinals will play the winner of Wednesday's Salem-Southeast semifinal at 6 p.m. on Saturday. Tickets are on sale at Mooney's main office through Thursday from 8 a.m. to 3 p.m.