Penguins roll; Brown tops 2,000 points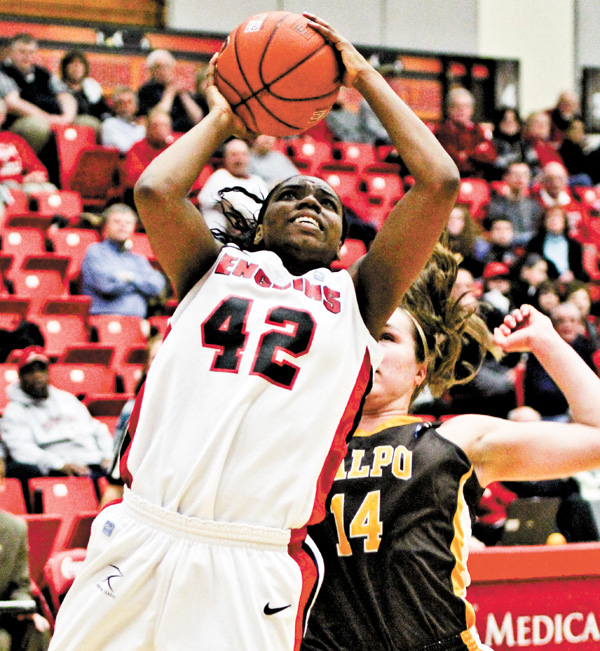 ---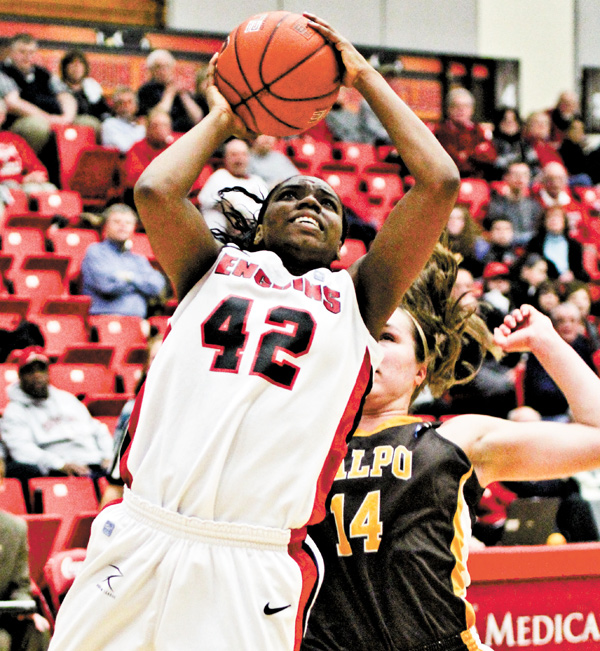 Photo
Youngstown State's Brandi Brown (42) gets past Valparaiso's Tabitha Gerardot (14) on her way to a layup Monday night at Beeghly Center. Brown scored 18 points in the Penguins' 72-50 victory. Brown reached the 2,000-point milestone for her career at YSU.
By Joe Catullo Jr.
YOUNGSTOWN
Dealing with bone spurs and tendinitis in her knees all season, Devan Matkin did everything she could to encourage her Youngstown State teammates and get back on the floor.
She suffered her first bone spur before the season began and another one two weeks ago. Her only playing time was a three-minute stretch against Pittsburgh on Nov. 9.
But with 1:05 remaining in Monday night's 72-50 victory over Valparaiso, she was back on the court.
"We tried everything but see a witch doctor to try to get her on the floor," YSU coach Bob Boldon said. "It just never got to the point where she could be competitive like she wants to be to get on the floor.
"It was nice to get her in. It was also a little bittersweet to get her in and see her move."
Matkin even attempted a shot with seconds remaining, but it hit the backboard's side.
"I was telling Shar'Rae [Davis] not to give it to me because I can't really jump and didn't really want to shoot the ball," Matkin said. "I knew I couldn't really run; I haven't done it in a long time.
"Coach Boldon asked if I wanted to go in. I said 'I can't really run, but I'd love to.' I could feel it. I feel it all the time, but it was okay."
Matkin also received a plaque and flowers before the game as part of Senior Night. Also honored was Brandi Brown who finished with 18 points and six rebounds.
"You guys are spoiled," Boldon said. "We didn't do a good enough job of getting her the ball."
Brown, the espnW National Player of the Week and the College Sports Madness High-Major Player of the Week, recorded her 2,000th career point with 16 minutes remaining. She is the second Penguin to do so (Dorothy Bowers was the other) and the fourth in Horizon League history.
"It was just a layup," Brown said. "It was just a regular layup, except now it has 2,000 on it. It was never my goal to get 2,000 points or anything, so it's pretty neat to add to the list."
Before the game, Brown's father accompanied her for the senior ceremony. He has only seen three games when she played, and the first one was when she scored her 1,000th career point on Nov. 25, 2011.
When Boldon handed Brown her flowers and plaque, he said he felt like he was taking her to prom.
"It was special, but it was Brandi," he said. "She's so humble about things it was almost just a waste of time for her. She would have been just as happy if I would have given it to her in the locker room after the game or at practice."
With one regular-season game remaining at Detroit on Thursday, the Penguins (21-7, 11-4 Horizon League) look to lock up the No. 2 seed for the tournament.
"We'll try our best to win on Thursday and secure that," Boldon said. "What happens after that, I don't know, but we'll try our best to get it."