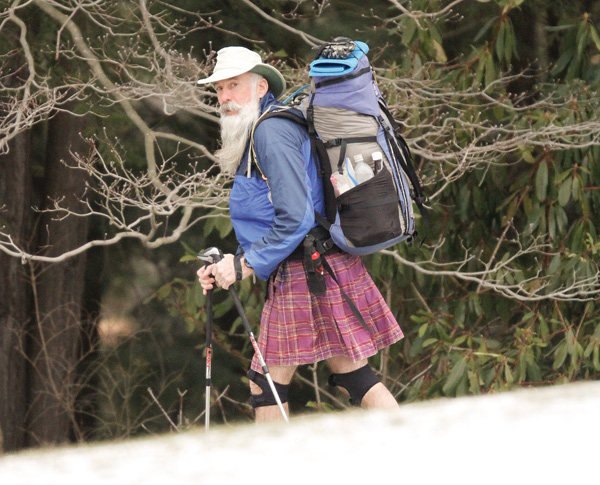 ---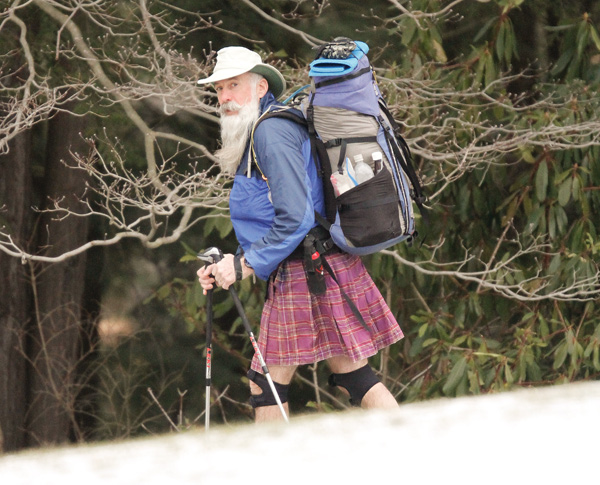 Photo
Richard Ostheimer, 67, of Youngstown is one of 200 people to hike the Appalachian Trail, the Pacific Crest Trail and the Continental Divide Trail.
YOUNGSTOWN
TAKING A HIKE MEANS different things to different people — and depends on an individual's sense of adventure.
Some are content with walking a mile or two along the myriad paths that wind through Mill Creek MetroParks. Some prefer much longer treks.
The trails Richard Ostheimer of Youngstown has walked go through lots of states.
Last year, he became one of an estimated 200 people to have completed the "Triple Crown," meaning he has hiked unassisted on the Appalachian Trail, which runs from Maine to Georgia; the Pacific Crest Trail, which winds through Washington, Oregon and California; and the Continental Divide Trail, which connects to Canada and Mexico through New Mexico, Colorado, Wyoming and Montana.
The total distance of the three is about 7,795 miles, Ostheimer said, noting that he walked the three trails over a period of about six years. He estimates that he's legged roughly 8,669 miles since 2005.
For a little perspective, it's estimated that 15 people have reached the top of Mount Everest for every one who has completed the Triple Crown, noted Ostheimer's wife, Carol, who retired after 33 years of teaching.
How did he get into such long-distance hiking?
"I blame it on the Boy Scouts. I've always loved the outdoors," the 67-year-old Ostheimer said with laughter.
Ostheimer, who retired as vice president of information security for the former Sky Bank, now Huntington Bank, spoke recently from his Ottawa Drive home about his adventures along some of the nation's longest and most-challenging trails.
Obviously, such undertakings require more than a generous supply of food, water and determination. Ostheimer's backpack is a testament to the level of preparation necessary to successfully arrive at such far-reaching destinations and goals.
"Sometimes he has to bring weeks' worth of water with him. He uses about 6,000 calories a day," Carol said.
Indeed. His gear resembles a compact, traveling sporting-goods store and includes a foldout nylon tent with an adjustable pole, three to six days' worth of dried foods, a headlamp, the usual toiletries and first-aid kits, a global-positioning-system unit, sleeping bags and pads to lie on, a camera, a small alcohol stove and pan for cooking and an ice ax to prevent or ease falls.
While hiking, he has a lot of solitary time, but that's not to say Ostheimer exists in isolation while on a trek.
Ostheimer maintains an online journal and has slides of his travels showing, for example, a photograph of him near the Canada-Washington border taken by a temporary hiking partner. In others, he is seen exploring prehistoric Indian pueblos built into cliffs at the Gila Cliff Dwellings National Monument near Silver City, N.M.
On two 2008 hikes along the Pacific Crest, Ostheimer met groups of hikers from the Los Angeles area, as well as a group from Germany, he recalled.
Regardless of planning and preparation, however, it's nearly inevitable that something unplanned will arise. Those with luck on their side often encounter "trail angels," he continued.
"They are people who leave a cooler with food and soda behind for hikers. It's called 'trail magic,'" Ostheimer explained, adding that such people perform other charitable acts such as allowing hikers to use their yards and stay overnight in their homes.
After subjecting his legs and body to such arduous workouts and mileage, and achieving milestones few have come close to reaching, is Ostheimer ready to pack it in? Not by a long shot.
This summer, he plans to hit the Colorado Trail and log an additional 500 miles when his travels will take him through the San Juan Mountains from Denver to Durango.
First, though, a little warm-up is required. For that, Ostheimer said, the Standing Stone Trail — a mere 72-mile jaunt in Central Pennsylvania — awaits.
"It's to stay in shape," he added.