LaBrae defense shuts down Newton Falls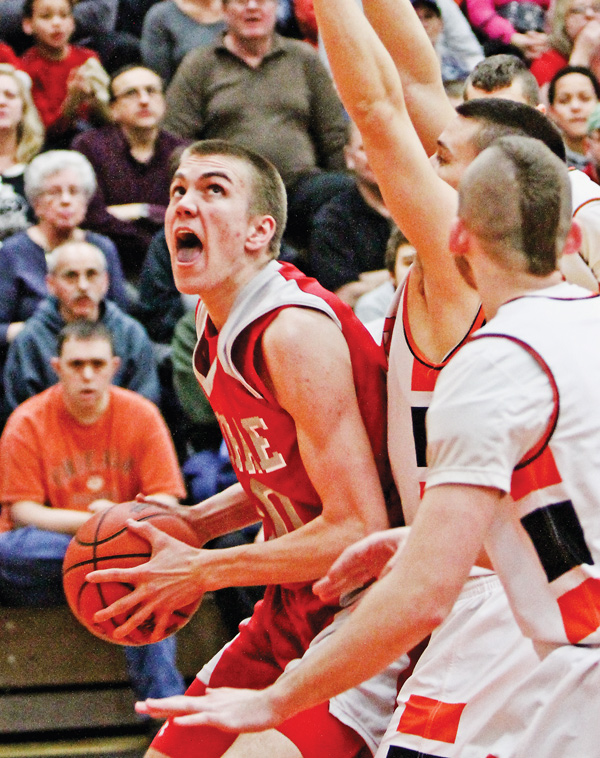 ---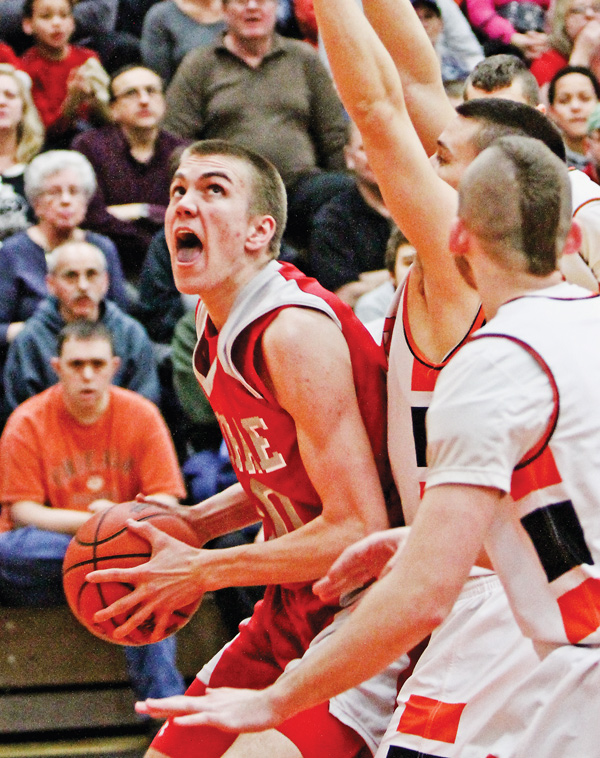 Photo
LaBrae's Peyton Aldrige (10) eyes the basket during a Division III district semifinal against Newton Falls on Monday night at Howland.
By Doug Chapin
HOWLAND
Defense is important in basketball this time of year, most obervers would agree, but this was ridiculous.
LaBrae (21-3) held arch-rival Newton Falls to 14.6 percent (6-for-41) shooting, including 3-for-24 (12.5 percent) from the 3-point line, blanked the Tigers in the third quarter and rolled to a 55-18 triumph Monday night in a Division III semifinal at Howland High.
The Vikings will face Brookfield or Ursuline Saturday night in the district title game.
"We play good defense, we're a good defensive team, we pride ourselves on our defense," LaBrae coach Chad Kiser said. "But that's the best defense we've played in the seven years I've been head coach. We played four quarters, we held them scoreless in the third and gave up six in the fourth.
"It's what we've got to do. This time of year you've got to play defense, get stops and rebound. We were able to do that as a team. We covered each other, we closed the penetration gaps and we rebounded."
The Vikings had beaten the Tigers by scores of 60-47 and 42-34 during the regular season.
"We were obviously nervous and tight and I don't know why because we didn't have anything to lose," Newton Falls coach Roy Sembach said. "They are a great basketball team and would have been difficult to beat if we were playing our very, very best.
"With our lack of size we thought we would have a devil of a time scoring inside. I thought we would have to hit at least 40 percent of our 3-point attempts. I think we might have had 40-percent air balls. Some of that is our nerves, some is poor shooting and a lot is LaBrae gets out on you and makes it tough."
LaBrae held the Tigers (14-11) to just one field goal from the 4:52 mark of the second quarter to the 5:46 juncture of the final quarter. During that span of 15:06 on the game clock the Vikings increased a 14-10 lead to 39-12.
"I have to give credit to coach, he prepared us well, coming out with their game plan and telling us what they were going to do," senior guard Carl Brown said about LaBrae's defensive performance. "We knew defense was going to be the key because every possession counts. We knew they were going to hold the ball, buy a lot of time to make the game closer. We knew we had to play good defense."
Brown had a solid game with 14 points, four steals, five rebounds and three assists. Six-foot-seven junior Peyton Aldridge had 16 points and 15 rebounds and prevented the Tigers from mounting any sort of offensive threat inside the paint.