YSU offers One-Stop service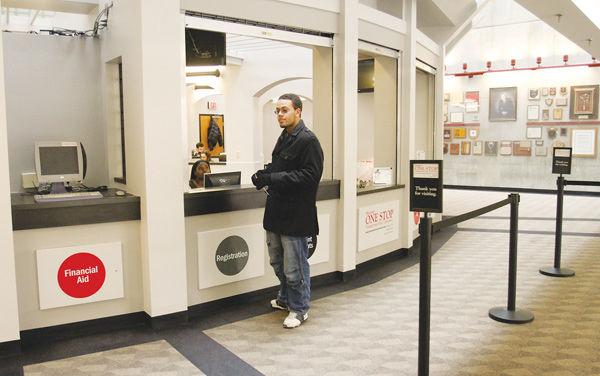 ---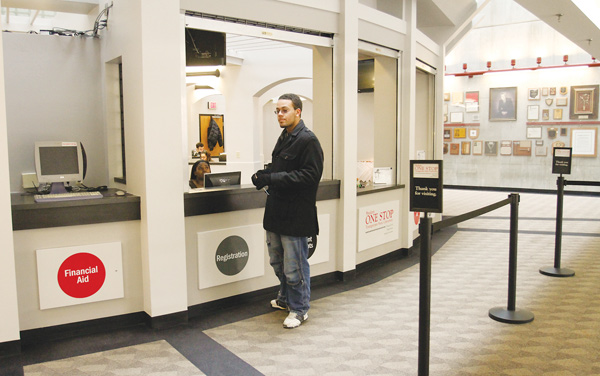 Photo
James Mickel of Youngstown seeks assistance at the registration station of Youngstown State's new One Stop center for students.
By Denise Dick
Youngstown
Rather than bouncing among different Youngstown State University offices to resolve problems with financial aid, registration or student accounts, students now may take care of all of their issues in one place.
YSU's Student One Stop opened in mid-February in Meshel Hall.
"The concept is rather than have a student from registration to financial aid, to student accounts and then start over, they can go talk to one person and get the problem solved," said Jack Fahey, vice president for student affairs.
Ida Campbell, a junior from Warren who is studying social work, said her brief visit to the One Stop last week answered questions she had.
"And I have to say it was done quickly and efficiently," Campbell said.
The fully staffed financial aid, student accounts and registrar's office remain in the same locations inside Meshel, but personnel at the One Stop are dedicated to resolve certain problems.
"It not only helps students know they can go to one place and it's faster and easier for them, but it frees up staff for the more challenging cases that require individual attention," Fahey said.
Elaine Ruse, director of financial aid, said it's early and some employees are still being trained, but the concept seems to be working.
"I actually think it's going pretty well so far," she said. "Our goal is to provide enrollment-related services to our customers a little more efficiently."
One-stop centers have become popular in universities across the country as a best practice for improving customer service across the three services.
Staff at YSU centers consists of a supervisor, two entry-level professional staff and three graduate interns.
"I've kind of looked at this a little differently in that you're adding some folks that are dedicated to customer service eight hours a day," Ruse said. "Their role basically from my vantage point is to almost walk the student through any type of challenge they might be having, to facilitate any challenges they might deal with."
Although the center hasn't yet seen a high-volume registration time, Fahey said that so far, student reviews have been positive.
"So far it's a win-win," he said.