He is cofounder of the Mahoning Veterans Memorial at the Canfield Fairgrounds.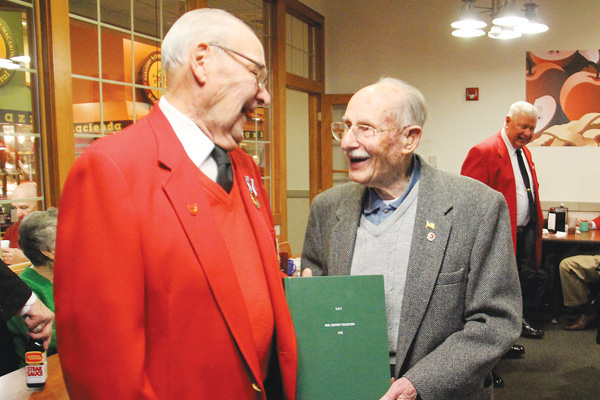 ---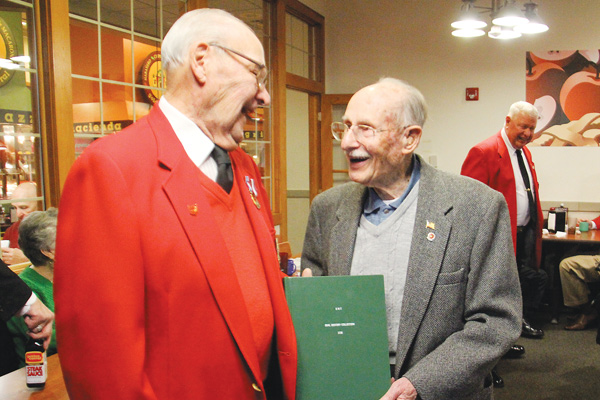 Photo
Sgt. Paul Sovik of Youngstown gives Raymond Braidich a book as a present during a birthday celebration for Braidich, 95, at the Golden Corral restaurant in Boardman last week.
POLAND
The U.S. flag stands at the center of the life of World War II Marine Raymond F. Braidich, who was honored by fellow veterans and friends on his 95th birthday for 65 years of service to area veterans and the community.
Braidich, of Poland, who turned 95 last week, is known for putting American flags on veterans' graves and influencing many residents of Shepherd of the Valley retirement village, where he lives to fly the flag.
"The U.S. flag is the symbol that holds this country together," he said.
Braidich believes worn flags ought to be disposed of in a dignified vessel, not a burn barrel or a garbage can or in a pile on the ground. In 2011, he fulfilled a 10-year dream by inventing a portable, propane-gas-fueled flag-disposal device dubbed the "Braidich Burner."
He is one of four founders and designers of the Mahoning Veterans Memorial (MVM) at the Canfield Fairgrounds, and was the organization's first president, served in that office in 2006, and is president emeritus.
Braidich spends many hours at the memorial planting flowers, weeding, edging, watering and sweeping the walkway to fulfill his dream of making it a place of great beauty for the public and veterans to be proud of and enjoy.
The Mahoning Veterans Memorial ought to be a showplace, but it's not, he said after the celebration.
Braidich was born Feb. 27, 1918, in Slovan, Pa., and his family moved to McGuffey Road on Youngstown's East Side in 1925. He graduated from Scienceville High School in 1936 and in 1940 was hired by the Youngstown Health Department as dairy farm sanitation inspector. He retired in 1983 as chief of dairy farm sanitation inspection for Ohio, New York, Pennsylvania and West Virginia, as recounted by his longtime friend Raymond Hess of New Waterford, past state AMVETS commander.
Braidich was drafted into the Marines on Dec. 8, 1943, and served in Okinawa in the spring and early summer of 1945 in the fire direction center of the 9th 155mm Gun Battalion. He was discharged honorably Nov. 30, 1945, and resumed his job in the health department.
Braidich joined AMVETS Post 44 in 1946 and is its first life member. He served in every official position in Post 44 and AMVETS District 19. He also is a life member of VFW Post 9947, and a member of American Legion Post 15, Tri-State Detachment 494 of the Marine Corps League and the United Veterans Council of Greater Youngstown, holding various offices in all.
He was AMVETS District 19 and United Veterans Council of Greater Youngstown, Veteran of the Year, both in 1995, and is a charter member of Christ Church Presbyterian.
"Congratulations, Ray, we love you dearly," Hess said.
Braidich and his wife, the former Myrna Clark, who died in 1983, have two children, Ron and Diana Braidich and Mike and Nancy Braidich Pallo.
About 50 people attended the celebration at the Golden Corral in Boardman, and Braidich received many birthday cards and messages from people who could not be present.
In a telephone call from Florida to Dean McClain, who organized the event, disabled Vietnam War veteran Carl Nunziato praised Braidich for his "service to our country, state and county."
"Ray is an outstanding leader in the veterans community and provides an example for us all," McClain said.
"Ray is an outstanding, energetic and honorable person," said Braidich's friend Harry Dampf of Canfield. Dampf is one of the co-founders of the Mahoning Veterans Memorial and served in the Marine Corps from 1960 to 1964.
Braidich thanked everyone for helping him celebrate his 95th birthday.
"I hope to see each and every one of you when I'm 100," he said.