Two killed in Poland crash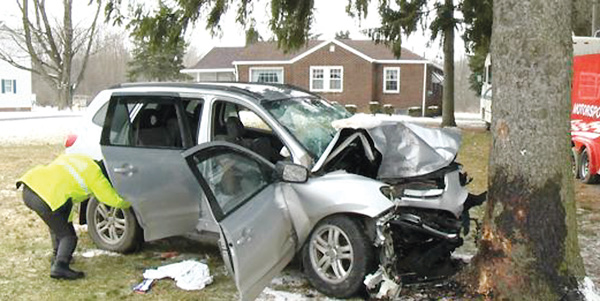 ---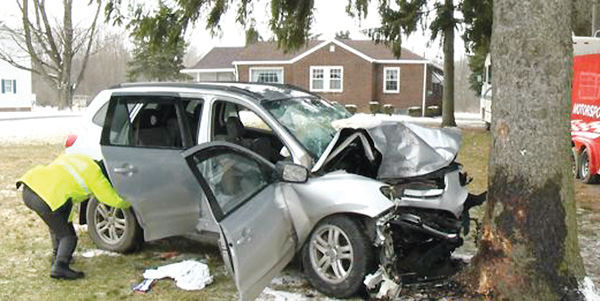 Photo
This Hyundai Sante Fe sport-utility vehicle crashed into a tree on New Castle Road in Poland Township on Sunday afternoon, killing two and seriously injuring one.
Staff report
POLAND
Two people were killed and a third person was seriously injured in a one-vehicle crash Sunday afternoon in Poland Township.
According to the Ohio State Highway Patrol's Canfield Post, the crash occurred at 12:08 p.m. on New Castle Road just west of Stewart Road.
A Hyundai Santa Fe sport-utility vehicle went off the left side of the road, struck a mailbox and then a tree, an OSHP dispatcher said Sunday afternoon.
The two people sitting in the front of the vehicle were pronounced dead at the scene. The other passenger was taken to St. Elizabeth Health Center in Youngstown with life-threatening injuries, the patrol said.
The state patrol, as well as police from Lowellville and Coitsville, assisted Poland Township and the Western Reserve Joint Fire District.
According to preliminary reports, it is not clear if drugs or alcohol played a role in the crash.Names of the victims were not released as of late Sunday night.None of the victims was wearing a seat belt, the OSHP said.
The patrol said the crash remains under investigation.
According to patrol data, the two victims in Sunday's crash were Mahoning County's first two traffic fatalities of 2013. At this time last year, the county had recorded three traffic fatalities. So far this year, Trumbull County has logged two traffic fatalities and Columbiana three.