Close loss doesn't deter Boardman's Mancini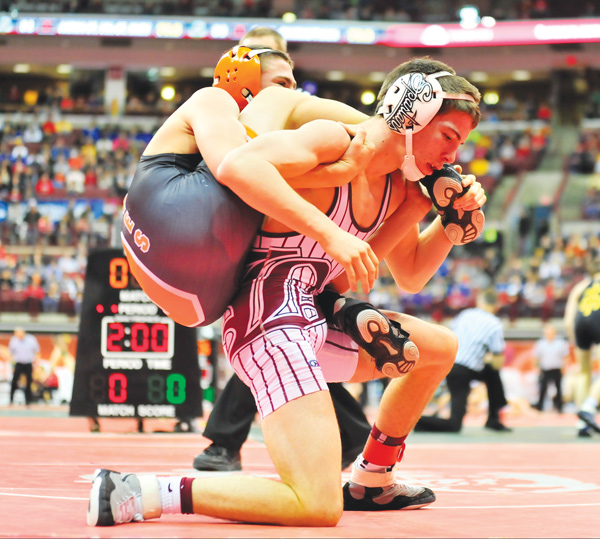 ---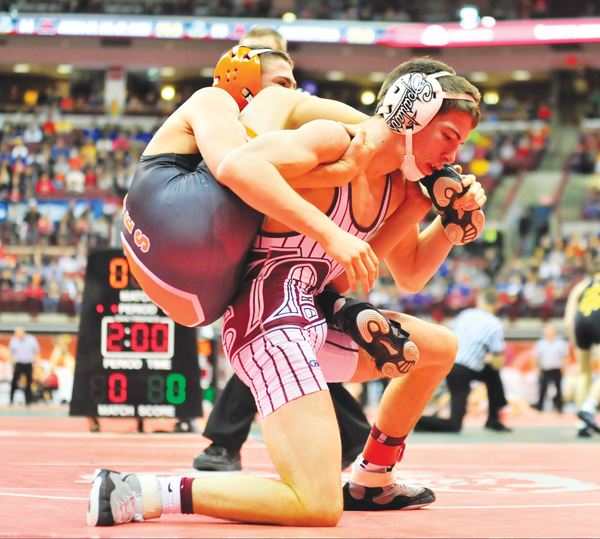 Photo
Nick Mancini of Boardman works to get Greg Brusco of Delaware off of his back during the consolation match for third place at 113 pounds in Division I of the OHSAA state wrestling tournament Saturday in Columbus. Mancini bombed Brusco, 11-0.
The Boardman senior rallied for third at state
By Eric Mauk
Columbus
After an excruciating 2-1 loss to eventual 113-pound Division I state champion Aaron Assad Friday night, Boardman's Nick Mancini went back to work Saturday morning as the final places were determined for the state wrestling tournament.
The senior, who will wrestle at Cleveland State, topped Mount Vernon's Dakota Riley 6-3 in his first match of the day and then bombed Delaware's Greg Brusco 11-0 to take the third spot for the Spartans.
"[Saturday] went really well. I hit all the moves I wanted to hit, I was very comfortable and felt like I was in control the whole day. I knew if I got in my groove, I could beat anybody," Mancini said. "I wouldn't say I was satisfied with how the tournament went for me because obviously my goal was to win, but I accepted it after [Friday] and came back strong. I wasn't going to lose by one point and then come out here and finish sixth."
His Saturday success didn't erase the bitter disappointment of Friday's defeat, but upon reflection Mancini realized that his Friday effort was nothing to be ashamed of.
"Assad was highly regarded, was ranked 10th in the country, a fourth-time state placer and is going to Purdue," told Mancini. "But I came out and gave him everything he wanted in a very close match so I have to be happy about that."
Breaking Through
Senior Matt Hardenbrook became the first-ever state placer for the fledgling wrestling program at Crestview, taking fifth place in the 170-pound weight class after a 16-7 rout of Coshocton's Dom Johns in his final match.
Hardenbrook, who moved to Crestview just as the wrestling program was beginning at the school, appeared to be happier about what his success means for the program than what it means for him. The soft-spoken Hardenbrook, who has two younger brothers that will look to continue building the program, hoped that his effort brings some recognition to his team.
"It was a good end to my senior season," Hardenbrook said. "I'm not satisfied, but I think being in the top five is something to be proud of. I'm just hoping that it is the first step for the program. I hope that this gets our program some respect in the school and shows others what a great job that the coaching staff does for us. I've got two little brothers and hopefully they'll follow me and be here soon."
Sharp Puts In Extra Time Again
West Branch senior heavyweight Connor Sharp didn't have to look too far back in the archives for footage on his foe in Saturday's third-place match as he found himself staring at Franklin's Chase Henderson — the man he fought through four overtime periods in a loss on Friday.
So true to form, the third-place match went to overtime as well as both wrestlers failed to hit any big scoring moves in regulation. The two went through a scoreless overtime period before Henderson scored in the subsequent 30-second tiebreaker period to claim a 2-1 win. Sharp placed for the second consecutive year at the state tournament, adding a fourth-place medal to his third-place award from a year ago.
The Future Is Now
David Brian Whisler played a key role in helping Howland teammate Gabe Stark win a 145-pound state title, but the 152-pound sophomore earned his own accolades as well, finishing fourth in Division II.
Whisler fell in the third-place match to Bellbrook's Benjamin Schram, losing a 5-3 decision in overtime, and despite being pleased with his effort he reported that the quest to match Stark's accomplishment started Sunday.
"I'm proud of myself for getting in the top four as a sophomore but I'm not satisfied because I came here to win," Whisler said. "But it's a great accomplishment and now I know what I need to do to get better. Training for next year starts [Sunday]."
Whisler moved to the third-place match with a late-match win over Clyde's Blake Miller, using the same never-say-die methods that earned Stark his title on Saturday.
"My consolation semifinal when I scored at the end of the match to win was huge," Whisler said. "We are taught to always keep wrestling. Guys will let up a little at the end of a match and can give you an opportunity. Three seconds is an eternity and if you let up, it only takes a second to score a point."