Rubye Cousin celebrates 100th birthday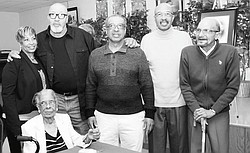 Photo
SPECIAL TO THE VINDICATOR Rubye Reedy Cousin is surrounded by some of her family who helped her celebrate her 100th birthday at a recent gathering.
YOUNGSTOWN
Rubye Reedy Cousin was born Feb. 26, 1913, in Calhoun County, Miss., to Cass and Willie (Jennings) Reedy.
She recently celebrated her 100th birthday with family and friends including her children, James (Linda) Cousin of Los Angeles; Casey Cousin of Kenosha, Wis.; Madelyn Cousin of Tampa, Fla.; Maurice and Kenneth Cousin, both of Youngstown; grandsons, Jamie Cousin of Denver, Colo.; Casey Cousin of Kenosha; and LaMar Cousin of Charlotte, N.C.; and great-granddaughter, Jada Cousin of Denver.
Eleven grandchildren and 14 great-grandchildren complete her family.
She married Kaysen Cousin Jan. 21, 1939, and they celebrated their 50th anniversary in 1989. Mr. Cousin died in 1993.
Mrs. Cousin completed her studies at Mary Holmes Seminary, West Point, Miss., and was a licensed teacher for seven years.
She moved to Youngstown in 1945 to join her husband.
Mrs. Cousin was a cashier in the cafeteria of St. Elizabeth Hospital for more than 26 years.
She joined Tabernacle Baptist Church and has been a member for 60 years. She sang in its choir and belonged to its Willing Workers.
Mrs. Cousin enjoyed playing Scrabble with her children and grandchildren and still plays an occasional game with them. She made ceramics, was a seamstress, and enjoyed flower and vegetable gardening and canning.