Miss Madeline, Steven Bower to be married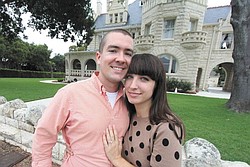 Photo
Steven Bower and Rachael Madeline
SAN ANTONIO, TEXAS
Ken and Rodney Ann Madeline of San Antonio, Texas, formerly of Boardman, are announcing the engagement of their daughter, Rachael Madeline, and Steven Bower, both of San Antonio.
Parents of the future groom are Bruce and Joy Bower of Prairie Village, Kan.
Invitations will be extended for the wedding and reception set for March 23 at Lambermont Estate and Events in San Antonio. A local reception is planned for April 6 at The Embassy in Boardman.
The bride-elect received a bachelor's degree in fine arts from Ohio University and a master's degree in fine arts from Clemson University. She is a painting instructor for Painting with a Twist in San Antonio.
The prospective groom received a doctorate in mechanical engineering from Clemson University. He is a research engineer for Southwest Research Institute in San Antonio.