Irish Man and Woman of the Year chosen

Photo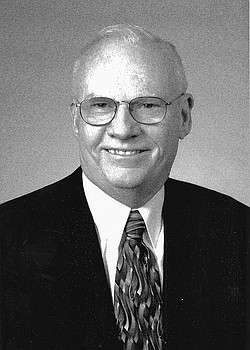 Photo
Staff report
YOUNGSTOWN
The annual Ancient Order of Hibernians Joseph T. Nalley Division 6 is sponsoring a St. Patrick's Day Mass and luncheon March 16 at St. Patrick Church, 1420 Oak Hill Ave.
The event will honor John M. Sheridan, the 2013 AOH Irish Man of the Year, and Kathi McNabb Welsh, 2013 LAOH Irish Woman of the Year.
Mass will be at 10:30 a.m. with the luncheon of traditional corned beef and cabbage following in the church hall. The public is invited to the Mass. Luncheon tickets are $20 each.
Tickets are available by calling Jim McGuinness, president of AOH, at 330-770-8155. No tickets will be sold at the door.
Welsh was born Nov. 15, 1959, in Youngstown, the daughter of Ian and Hanna McNabb and granddaughter of Dennis and Jean McNabb and Albert and Ann Moore.
In 1989 she married Attorney Timothy G. Welsh. They have one son, Timothy.
Welsh is a graduate of Austintown Fitch High School and Bowling Green University and received a juris doctorate in 1985 from Akron Law School.
She was assistant prosecutor for the City of Akron from 1986 to 1988 and was made chief prosecutor in 1988. She served as an assistant Mahoning County Prosecutor from 1989 to 1994. Welsh was appointed Chief Deputy Clerk in 1994 by Clerk of Court Anthony Vivo, the first woman to serve in that role.
Welsh is a member of Mahoning County Bar Association and was bar president from 2002 to 2003, the first woman elected to this position. She was appointed to a seat on the Mahoning County Educational Service Center Board in 2003 and is currently serving her third term on its board. She also is a member of the Mahoning County Career and Technical Center School board. She was appointed to a two-year term as trustee of the newly formed Eastern Gateway Community College by Gov. Ted Strickland in 2009, and serves on the board of directors of the Boardman Civic Association and was president of its board in 2012.
Welsh traces her roots to the Scottish Highlands and became involved with the Irish community when she married her husband. She is a member of Ladies Ancient Order of Hibernians Division 6, Golden Rose of Ireland, worked in the kitchen for the Gathering of the Irish Clans and marched with her LAOH sisters in the annual St. Patrick's Day Parade.
She and her husband are members of St. Charles Borromeo Church in Boardman, where she serves as lector and on its New Parishioner Committee. She also is a member of its bell choir and Small Christian Communities.
Born on Youngstown's north side and raised on Halleck Street, Sheridan is the son of the late Robert F. and Lucille McBride Sheridan.
He was a 1955 graduate of Ursuline High School and has served on all its reunion committees.
Sheridan married Mary Mylott Sept. 12, 1959, at St. Columba Cathedral. They have two daughters, Mary Kathleen (Dennis) Abboud and Susan (Thomas) Eich, and four grandchildren.
He has worked in various capacities in the food industry for Great Atlantic & Pacific Tea Co., Golden Dawn Foods, Sharon, Pa., and Peter J. Schmitt Co. He is presently an associate with Edward J. Fox & Sons Funeral Home.
Sheridan served on committees of the Mahoning Valley St. Patrick's Day Parade since the inception. He was the recipient of the Bill Ockerman Award for Outstanding Contributions to the Mahoning Valley's St. Patrick's Day Parade in 2007, and was the grand marshall of the parade in 2012.
He is a charter member of the Mahoning Valley Gaelic Society at Holy Family Church and received the Gael of the Year Award in 1980. He also is a member of Knights of Columbus Division 274. He has been a participant in the Ulster Project as an interviewer and has been a participant in many social and family activities. Other memberships include Ancient Order of Hibernians Joseph T. Nalley Division 6 of Mahoning County, Gathering of the Irish Clans, St. Patrick's raffle and has served as part of the Monday night crew at Dorothy Day House.