Ed Kawecki's concern for grandsons, wallet nearly cost his life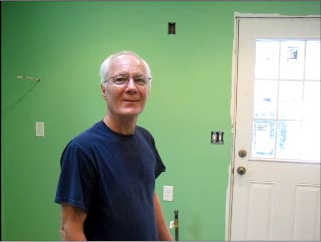 ---
By Ed Runyan
LEAVITTSBURG
Grateful Fire Survivor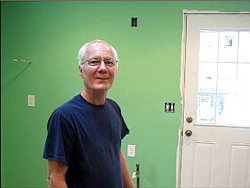 Video
A fire and Ed Kawecki's concern for his grandsons and wallet nearly cost him his life last November at his house on North Leavitt Road.
But thanks to a seven-minute response time from firefighters and ambulance personnel to Kawecki's 911 call, he was rescued from behind a locked door and given oxygen just in time.
Kawecki, 60, participated in a recent ceremony in Warren Township to honor six firefighters and ambulance personnel involved in the rescue — two from the Warren Fire Department and four from the Warren Township department.
Kawecki said he was in an upstairs bedroom about 10:30 p.m. Nov. 15 when his wife, Rita, "yelled upstairs and said the house is on fire. I thought she said she had the grandkids, but I wasn't sure. I hurried up and got dressed and got downstairs," he said.
Rita had left the house with the grandkids by a rear door.
"I opened the door to the dining room and there was flames and smoke in the dining room. I ran back upstairs to get my lunch box. My wallet was in there, and I didn't want to lose that. The smoke was getting to me, and I didn't realize it. I had never been in a fire before," he said.
He thought his grandsons were with his wife, but he wasn't sure "and started to worry about where they were, and the heat was intense, so I just made a dash for the kitchen door," he said Friday.
"When I got to right here, I reached for the door and I hit my head on the cupboards," he recalled from inside the kitchen. "I was suffocating, and I fell down, and I was afraid and kind of disoriented and afraid to get up.
"I was running out of oxygen, and I remembered my cellphone, so I called 911 and I said, 'Oh God please help me.' And that's all I remember until Thanksgiving morning."
He doesn't remember anything for nearly a week because he was in Cleveland MetroHealth Hospital unconscious.
The other part of the story Kawecki learned later was that because the 911 call came from a cellphone, it went to the Warren 911 center instead of Warren Township, where he lives, so Warren firefighters in the Parkman Road Northwest fire station responded.
On the way there, they learned the call was in Warren Township, but because someone was trapped inside, they continued on.
They arrived at the call at nearly the same time as firefighters and ambulance personnel from Warren Township.
Lt. Shawn Peura and firefighter Jim Poptic of the Warren Fire Department broke open the kitchen door and found Kawecki inside.
With the help of Warren Township firefighter James McBride, they carried Kawecki into the yard, where Warren Township firefighter and emergency medical technician Ben Armstrong and paramedics Bill Kohn and Julie Forrest immediately got Kawecki onto a stretcher and inserted an oxygen tube.
"My opinion is if it would have taken more than a minute to get him out, I don't think he would have made it," Warren Township Fire Chief Kenneth Schick said.
Kawecki was covered in soot and "gasping for breath" when firefighters got the oxygen tube in, Schick said.
He suffered lung damage and second-degree facial burns, which Kawecki described as similar to a bad sunburn.
Rita also went to MetroHealth hospital but was released after one day. The grandsons, age 3 and 6, were checked out locally and sent home with their parents.
Ed spent 13 days in MetroHealth, then a week in ValleyCare Hillside Rehabilitation Hospital learning to walk again and getting back his strength.
Four weeks later, he was back at his factory job in Twinsburg and says he's doing well.
"When I got out of Hillside, the next morning I went to the Warren Township Fire Department. I gave them a big hug," Kawecki said.
"If it weren't for them ...," he said, not finishing the sentence. "I did it before anything else. I did cry a little bit."