Brown's career-best 39 points lead Penguins over UIC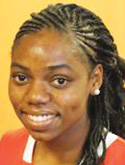 ---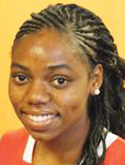 Photo
By Joe Scalzo
YOUNGSTOWN
She'd shot the lights out in the first half — and we mean that literally, since Youngstown's giant Lite-Brite scoreboard was half-dark — and she'd played her heart out in the second half, so when junior Melissa Thompson checked in after a breather, Penguin senior Brandi Brown could be forgiven for thinking she'd earned one herself.
"I said, 'It's not for you,'" YSU coach Bob Boldon said after Thursday's 79-66 win over visiting UIC. "It was the best coaching decision I made the whole game."
Brandi Brown Appreciation Day is Saturday but, well, who can wait? Two of the Penguins' five best players were hurt. Their three healthy subs — all freshmen — were averaging a combined 3.2 points per game. YSU played just one player taller than 5-foot-8, compared to eight for UIC.
But that one player was Brown. And that was enough.
"I should save this for Brandi Brown Day," said Boldon, "but I'm just happy I got a chance to coach her."
Brown scored 39 points, a career-high, on just 19 shots. It was the sixth-highest total in YSU history. She also grabbed 13 rebounds. It was her 19th double-double of the year and it not only clinched a home Horizon League tournament game, it put YSU one win away from its first 20-win season since 2000.
"I think this program has really turned around within the last few years," said Brown, who was 0-30 as a freshman. "I believe that anything can change if people have the right mentality and people have the right spirits and put their best effort forward. And I think that's what's been happening.
"It really is a story that will be told for a long time, about how this program has changed. And I'm happy that I could contribute in any way that I have so far."
Any way? More like every way. She was the first to show up for Thursday's shootaround. She then joined teammate Liz Hornberger at a kid's clinic, went to class and came within a missed free throw (she was 11 of 12 from the line) of dropping 40 on the Flames.
"She's an amazing person," Boldon said.
Hornberger and Monica Touvelle each added 12 for the Penguins (19-7, 9-4), who rank second in the conference standings. Melissa Thompson added 10.
Rachel Story scored 26 for UIC (9-17, 5-8), while Katie Hannemann had 20 but the Flames trailed by double digits for the last 10:43.
"It wasn't like UIC laid down," said Boldon. "They were in fifth place [in the Horizon] coming into tonight. They put up some pretty good numbers."
YSU just put up better ones, making 9 of 13 3-pointers in the first half to jump out to a 49-34 lead.
When asked what this season means, Brown said, "I think it means if you believe you can do something, you shouldn't let anything stop you.
"I think it's taken a lot of hard work and there haven't always been good days. But I think getting through those bad days is what makes those good days good and it makes a day like today feel special."