Watson hosts building's final Valentine's party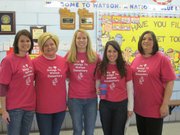 ---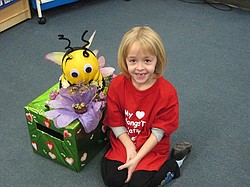 Photo
Neighbors | Natalie Scott.Students also made intricate Valentine's Day boxes for when they passed out valentines at the party Feb. 14. Jayden Dragovich sits next to her Valentine's Day box in Mrs. Reider's class.

Photo
Neighbors | Natalie Scott.Brooklyn Gelardi spread icing on a sugar cookie at the Valentine's Day party in Mrs. Barone's classroom. Students in Barone's class did many activities to prepare for Valentine's Day, including learning how to say "I love you" in sign language.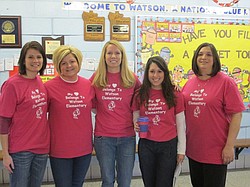 Photo
Neighbors | Natalie Scott.Students, teachers, and PTA members wore their T-shirts in support of Watson Feb. 14. Shown, from left, are Kathy Hoffman, Michele Mlynarski, Lisa Kaschak, Dana Elias, and Becky George at the last Valentine's Day party at Watson Elementary School.
By NATALIE SCOTT
Watson Elementary School hosted the building's last Valentine's Day party on Feb. 14. The PTA brought in food, gift bags, games, and many other party items to take to classrooms to celebrate Valentine's Day. Students and teachers wore T-shirts with "My heart belongs to Watson" on the front of them and the number of years they had been there to show their support of Watson.
"It was so great of the PTA to provide these shirts to every single student and teacher," said Watson Principal Sheila Palombo. "We are going to ask students to wear them every Friday as a part of the dress code. They are welcome to wear them throughout the week, as well, but we thought it would be nice to have one day where the whole school wears them to show their support."
Even amid the parties and celebrations, this Valentine's Day was bittersweet because it would be in the last in the school. Rae Jeanne Mollica, who has been on the faculty at Watson Elementary School for more than 50 years, shared her thoughts.
"It is sad, after all this time, to see the school closing," said Mollica. "Through all these years, I can say that kids have basically been the same through all of it. I just love working with the kids so much. I spent 36 years as a first-grade teacher, eight years, so far helping children with reading, and at least six as a tutor. It's what makes me happy."