Canfield, West Branch girls to meet in district final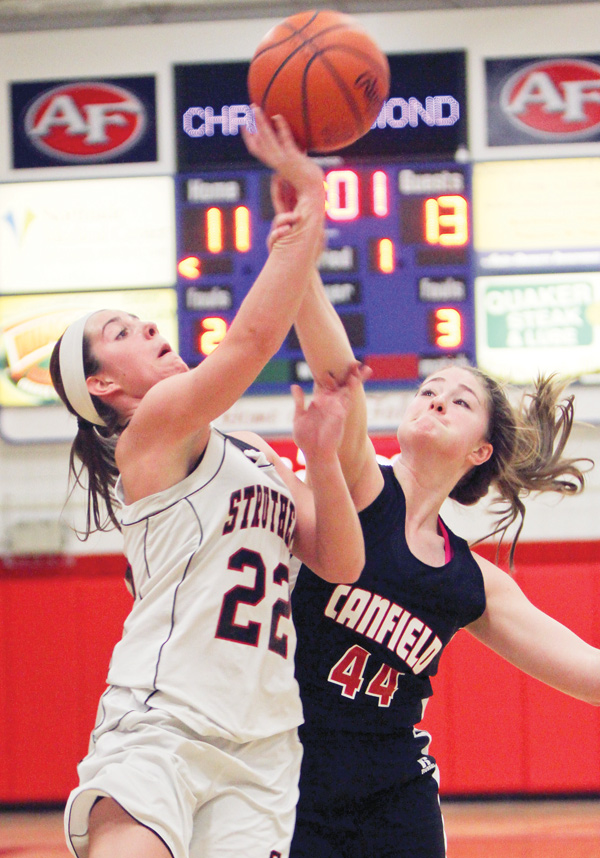 ---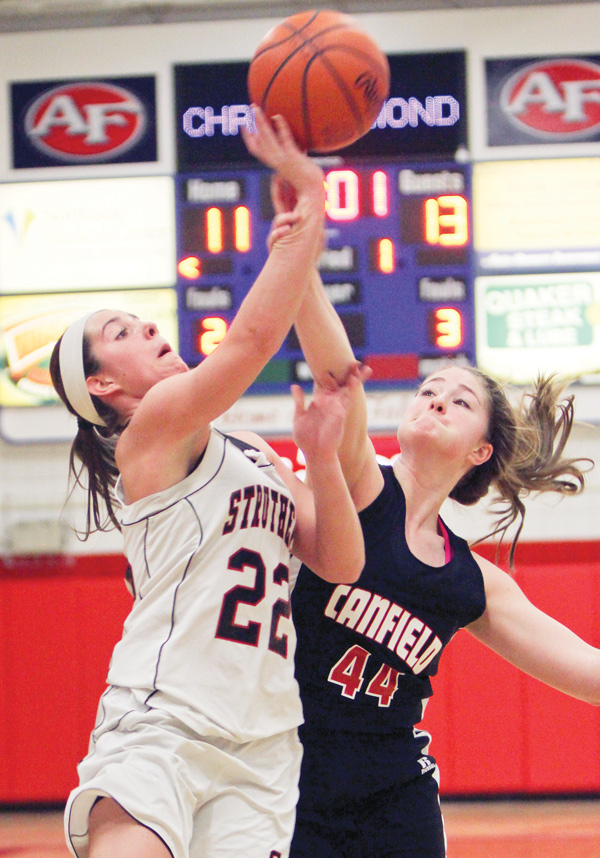 Photo
Struthers' Brittaney Zupko (22) tries to shoot over Canfield's Sabrina Mangapora (44) during the Division II district semifinal Thursday at Austintown Fitch High School. The Cardinals bested the Wildcats, 61-54.
Canfield, W. Branch advance to D-II final
By Brandon Judeh
AUSTINTOWN
The clock struck midnight for the Poland girl's basketball team as their Cinderella run came to an end at the hands of West Branch, 45-40, in the Division II district semifinal at Fitch.
The slipper fit the Bulldogs (16-9) for most of the game as they controlled the tempo. Their slow, patient offense slowed the run-and-gun Warriors (23-2).
"We didn't want to get into a run-and-gun style game with them because we know how good they are shooting the ball," Poland coach Nick Blanch said. "We were able to control the tempo and I am very proud of what our girls did."
Clutch 3-pointers from Rachael Robertson and Kasie Serich kept the Bulldogs close until the end, but it was the Warriors' Melinda Trimmer who iced the game.
Despite scoring just two first-half points, Trimmer bounced back and scored 14 second-half points, including six free throws down the stretch to put the game away.
"Poland concentrated on Melinda a lot and they did a great job, but she always finds a way and her free throws down the stretch were huge for us," Warriors coach Walt DeShields said.
Experience is everything in high school basketball, just ask the Canfield Cardinals.
The Cardinals held off Struthers, 61-54, to set up a district final rematch with West Branch.
Canfield was nursing an eight-point lead heading into the final period. Sophomore Rachel Tinkey — a two-year starter — stepped up.
"I knew that we were going to have to spread them out when we had the ball and I was able to drive and get some buckets and also kick it out to Abby Baker a couple of times and she nailed the 3," Tinkey said.
Tinkey had four of her seven assists in the fourth quarter and also finished with 15 points.
The Wildcats' stayed close until the very end. Brittaney Zupko led the Wildcats with 17 points and McKenna Shives scored 16, including three 3s for Struthers (19-5).
But Allison Pavlansky and the Cardinals made the Wildcats work for every shot.
"It's my job, that's my role on the team," Pavlansky said. "I guard the best player on the opposing team and I do my best to shut that player down. We did a great job of rotating our guards on their players."
Canfield coach Pat Pavlansky agrees.
"Struthers did a good job of doing what they wanted to do in the first half," he said. "In the second half we did a much better job of defending."
Sabrina Mangapora scored 12 points and had 15 rebounds. Abby Baker and Kayla Barko each had 10.
Canfield and West Branch will meet at 1 p.m. Saturday at Fitch.