Pee Wee Phantoms vault into playoffs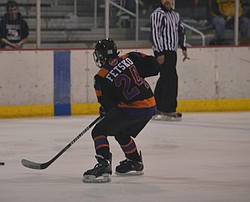 Photo
Mike Fetsko clears the puck while killing off a Phantom penalty.
The Youngstown Phantoms Pee Wee AA team sat idle from league play for two weeks. It had fallen into seventh place and sat on the outside of the playoff chase.
The Phantoms were scheduled for the last game of the PAHL season last Sunday afternoon at the South Hills Panthers. The fifth and sixth-place teams in the league had finished their regular season schedule and their playoff hopes hinged on the game. The Phantoms showed up ready to play and defeated the Panthers, 4-1.
The game did not start well for Youngstown, as South Hills scored one minute into the game. Youngstown regrouped from that early goal and tied the game at 3:52 of the first period on a power-play goal by Devin Whitaker (Boardman), assisted by Alex Ritz. The contest remained tied until the 4:19 mark of the second period when Maguire Franko (Poland) drilled a shot over the goalie's glove. He was assisted by Ritz. The period ended with Youngstown clinging to a 2-1 lead.
The Phantoms then outworked the Panthers in the final period, adding two more goals. The first came by Robbie Stanko (Canfield) at the 5:14 mark. He was assisted by Stone Elias (Canfield). Bo Gray (Boardman) deflected a pass by Ritz to put the final goal of the game in at 3:49.
Nick Beck (Boardman) faced 21 shots for the game.
With the win, Youngstown moves into fifth place in the league and will face the fourth-place Pittsburgh Huskies in the first round of the playoffs.