What would you do if an armed intruder came to your school?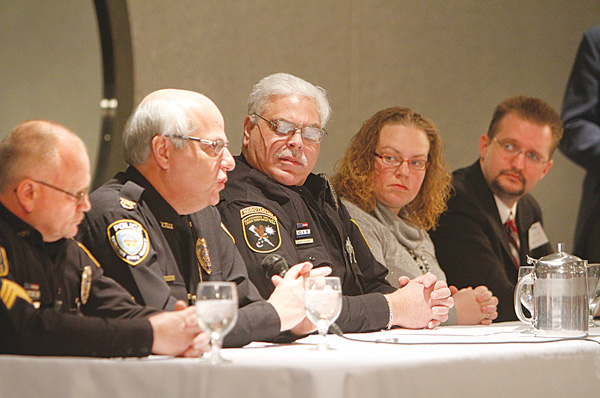 ---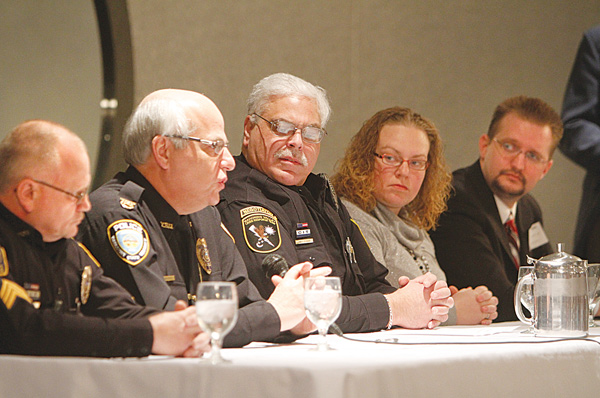 Photo
These panelists talked about tools to handle life-and-death situations at Mr. Anthony's Banquet Center in Boardman on Thursday. From left, Sgt. Ken Goist, school-resource officer with Springfield schools; police Chief Vincent D'Egidio of New Middletown; Michael Cretella, deputy chief of YSU Police; Jessica Jaros, disaster supervisor with Red Cross; and Steve Ruggles, operations director for Master Security Inc.
By Sean Barron
BOARDMAN
If an armed intruder were to come to your school or business, what would you do?
That question has taken on added urgency for many people since the Dec. 14, 2012, mass shooting at Sandy Hook Elementary School in Newtown, Conn., in which 26 children and adults were killed.
One of the best tools to handle such a life-and-death situation is to be more proactive than reactive, local safety-force members say.
That was the main theme of Thursday's seminar, "Unexpected Emergencies: A First Response Discussion," at Mr. Anthony's Banquet Center, 7440 South Ave.
An estimated 165 law-enforcement officials, business owners, teachers and others attended the one-hour workshop hosted by the Mahoning County Safety Council and The Regional Chamber.
Panelists were Sgt. Ken Goist, a school-resource officer with Springfield Schools; Chief Vincent D'Egidio of the New Middletown Police Department; Michael Cretella, deputy chief of the Youngstown State University Police Department; Jessica Jaros, disaster supervisor with the Central Tier, Northeast Region of the American Red Cross; and Steve Ruggles, operations director for Master Security Inc.
Dr. Rick Rogers of YSU's criminal justice department facilitated the discussion.
If a school has no lockdown procedures, it's imperative students and staff try to evacuate immediately to a predetermined area, Goist explained, noting that most school shootings occur in the morning.
If evacuation is impossible, other steps are to hide some place until police arrive and, as a last resort, disrupt or disarm the shooter, Goist said. Hiding places should not entrap or restrict people's movements, he said.
In addition, the majority of these tragedies take place in rural districts, so people must get past the notion that such acts will always happen elsewhere, he continued.
"They really need to pull their heads out of the sand," Goist, a 12-year resource officer, said, adding that his district conducts annual mandatory lockdown drills.
Goist also pointed to the rapport he's developed with students over the years: "One thing I've learned is you never turn away a [troubled] kid."
YSU faculty are encouraged to notify campus police about troubled students, then a plainclothes officer can talk privately to such students and, if necessary, get them professional help, Cretella noted. YSU police try to follow up and keep track of students with difficulties, he said.
D'Egidio told attendees his officers train regularly with neighboring departments to ensure, for example, the right responders are at an emergency. He urged anyone with information about someone's proclivity for violence to come forward.
In addition, D'Egidio saidmany districts are removing signs stating they're gun-free zones because that can tell a potential shooter,"We're an easy target. Come on in."
After a mass shooting, the Red Cross supplies mental-health experts to calm and counsel families awaiting word on their loved ones, Jaros noted.
Soon after the Newtown tragedy, many schools adopted complete lockdown policies with only one entry that security cameras monitor. Many buildings also have an emergency communications system to alert everyone of a possible situation, Ruggles explained.
"It's like a panic button at a bank," he said.
Nevertheless, sophisticated security is expensive, so some schools forgo the measures because of tight budgets and funding cuts, Ruggles said.
Nothing can prevent all gun-related tragedies, however, but YSU is committed to reaching out to struggling students, Cretella said.
"We want to help students. That's why we're here," he added.