Mancini, Cordova headed to state wrestling tournament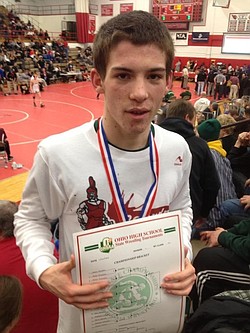 Photo
Boardman's Nick Mancini won a district title and advanced to this week's state wrestling tournament in Columbus.
Boardman's Nick Mancini is headed to the state wrestling tournament for the third time this week, but the first as a district champion, after claiming a Division I crown last weekend at Mentor.
An 8-3 decision over Jackson's Justyn Bostic brought his record to 46-3 on the year, completing a historic weekend where he outscored opponents, 46-7.
"A district title is pretty impressive," said Dom Mancini, Boardman's coach and Nick's father. "This is always one of the toughest districts in Ohio, probably even in the country.
"The dominance was a surprise. He's just so determined right now. You couldn't ask for someone in a greater frame of mind than he is right now."
Mancini will face a tough bracket this week with several returning state placers in the mix. He was scheduled to face Oregon Clay's returning state placer Jared Davis (32-11) in the opening round on Thursday. With a win there and a quarterfinal victory Friday morning, Mancini would potentially meet three-time state placer Aaron Assad (Broadview Heights) in the semis on Friday night.
Mancini's teammate Joe Cordova will also compete in the state tourney this week, after taking fourth at districts at 182 pounds.
The senior picked up a win over Barberton's Hunter Thornton before finishing in fourth place.
At state, Cordova (32-8) was slated to face Olentangy's Nate Hall (41-8) Thursday in the first round. A win would propel him into a potential second-round bout against 2011 state placer Gunner Lay of Loveland on Friday morning.
The matches for state places three through eight will be wrestled this morning with the state championship bouts set for tonight at 5:45.