Published: Fri, March 1, 2013 @ 12:10 a.m.
US vs. Ben Lupo - Indictment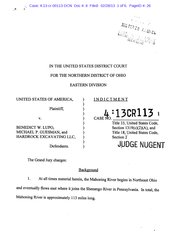 Document
United States of America vs. Benedict Lupo, Michael Guesman and Hardrock Excavating, llc. Case: 4:13-cr-00113-DCN Doc #: 8 Filed: 02/28/13.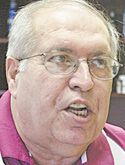 Photo
RELATED: Activists call for shutdown of Blott Road well, protest water sale
YOUNGSTOWN
A federal grand jury has indicted Ben W. Lupo and his company Hardrock Excavating on one count each of violating the Clean Water Act.
The indictments stem from incidents that occurred between Nov. 1, 2012, and Jan. 31, 2013, when federal and state regulators learned that Lupo had ordered an employee, on multiple occasions, to dump a mixture of oil, brine and drilling mud into a storm drain on the property of Hardrock Excavating at 2761 Salt Springs Road.
Thousands of gallons of waste made its way into a nearby tributary that fed into the Mahoning River.
The employee, identified as Michael P. Guesman, 34, of Cortland, also was indicted Thursday on the same charge of violating the Clean Water Act.
An affidavit, filed in U.S. District Court in Youngstown earlier this month, supported evidence collected as part of an ongoing criminal investigation being conducted by the Ohio Department of Natural Resources, the Ohio Environmental Protection Agency, the U.S. Environmental Protection Agency and the U.S. Department of Justice, along with the Ohio Attorney General's Office.
"In this particular case, the evidence suggests multiple instances of deceptive and illegal conduct, without regard to human health and the environment," Ohio EPA director Scott Nally said in a statement.
According to the affidavit, Lupo is believed to have instructed such waste dumps on 20 separate occasions, all at 2761 Salt Springs Road where Lupo operates several other businesses, including D&L Energy, which was implicated in the earthquakes that shook Youngstown on New Year's Eve 2011. Court documents show that 58 temporary storage tanks capable of holding up to 20,000 gallons each of drilling waste were located on the property.
On Feb. 14, Lupo waived his right to a preliminary hearing. With the indictments, the U.S. Attorney's Office in Cleveland will lead the case against Lupo and the other parties involved.
Maximum penalties for violating the Clean Water Act for individuals are three years in prison, one year of supervised release and a fine of $50,000 per day of violation or $250,000, depending on what is larger. For corporations, maximum penalties include five years' probation and a fine of $50,000 per day of violation or $500,000.
Asked if the government's case against Lupo was brought too hastily, with the possibility that just one charge against him could somehow undermine successful prosecution, Mike Tobin, a spokesman for the U.S. District Court of Northern Ohio, said his office was not going to discuss the specifics of its strategy.
He said evidence collected during the ongoing criminal investigation would help strengthen the case against Lupo. Tobin did not rule out the possibility of more charges in the future.
On Wednesday, Mark Moretti, a spokesman for Ohio Attorney General Mike DeWine's office, confirmed that both federal and state officials executed a U.S. Department of Justice search warrant at D&L and Hardrock's headquarters on Salt Springs Road.
Moretti added that as investigations proceed, it is likely the state will file civil charges, though he could not provide more details about those efforts Thursday.
In response to the early findings of its investigation, on Feb. 7, ODNR permanently revoked the operating permits of D&L Energy and Hardrock Excavating. Under state law, the companies were given an opportunity to present evidence against the state's move within 24 hours.
D&L, an injection-well operator and exploration and production company, waived its right to that hearing, permanently losing its ability to conduct injection-well operations. Hardrock, however, presented evidence to the chief of ODNR's Division of Oil and Gas Resources Management, Richard J. Simmers.
Late Wednesday, Simmers issued an order rebuking that evidence, saying that Hardrock's attorney, David Bertsch, failed to convince regulators that the company did not violate the state's brine-hauling laws.
The order means Hardrock's brine-hauling permits are now officially and permanently revoked.
"ODNR's investigation found that Hardrock Excavating willfully and intentionally violated Ohio law," wrote Bethany McCorkle, chief of communications for ODNR in a prepared statement. "Mr. Lupo's indifference and lack of reasonable care resulted in a pattern of violations that will not be tolerated in Ohio."
Simmers cited eight violations as cause for his order.
Chief among them was a regulator's discovery that Mohawk Disposal Management, another of Lupo's companies involved in various oil and gas operations, was hauling brine under the certification number of Hardrock.
Not only was Mohawk unauthorized to haul brine, according to the order, but it also was transporting the waste to unregistered disposal sites not on record with ODNR, which the agency requires so that it can track disposal of the waste properly.
"Hardrock engaged in a pattern of violations by willfully allowing Mohawk trucks to transport brine under Hardrock's registration number or, at a minimum, showed lack of reasonable care in the use of its registration number," Simmers wrote in his order.
Now, the only recourse Hardrock has left is an appeal that can be filed with the Ohio Oil and Gas Commission within 30 days of Simmers' order.
McCorkle added that ODNR employees attempted to personally serve the order to Lupo at Hardrock headquarters, but company officials refused to accept it, forcing ODNR to send the order via certified mail.
Chris Abbruzzese, spokesman for the Ohio EPA, said cleanup efforts on Salt Springs are expected to conclude sometime this weekend. Officials with the agency will continue to monitor the site and keep collection and containment equipment there until they feel all the waste has been properly cleared at the site.