Hubbard fish fry big Lenten draw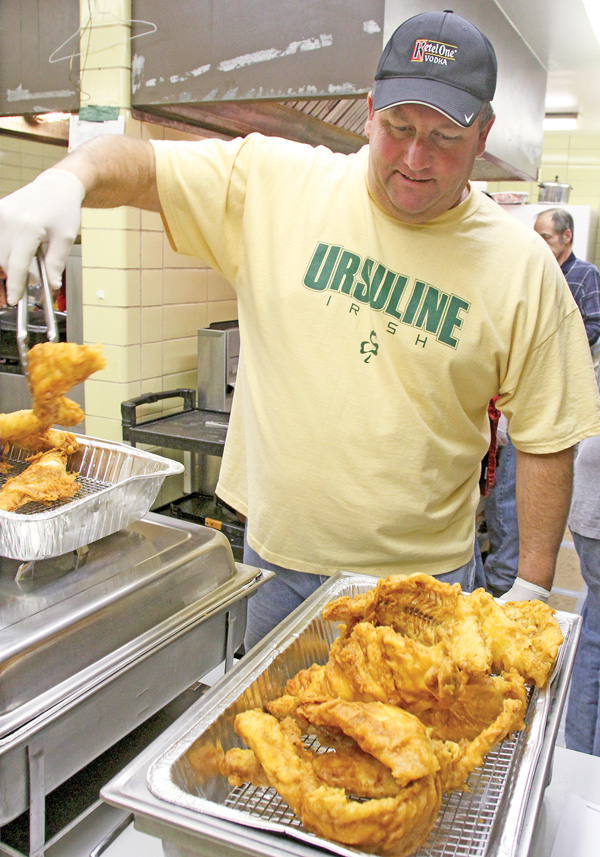 ---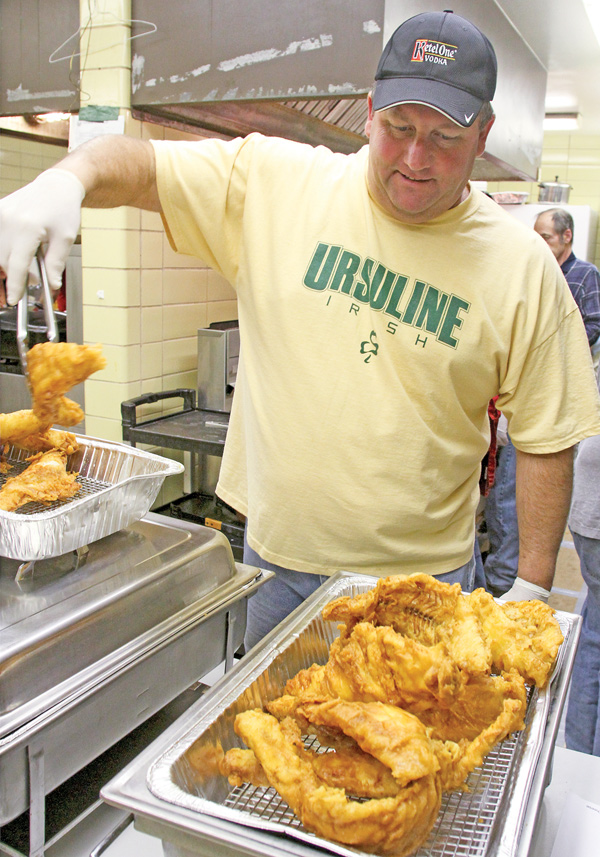 Photo
Alex Forte of St. Patrick Church in Hubbard takes deep-fried haddock out of the fryer during a fish fry at the church on a recent Friday. Volunteers prepare days in advance for a meal attended by more than 600 people on Fridays during Lent.
By Danny Restivo
drestivo@vindy.com
HUBBARD
Fried fish on Fridays is a Lenten staple for Catholic churches around the Valley.
It's no different at St. Patrick Church here, where a small group of parishioners work all week to prepare a bountiful meal that's enjoyed by about 600 people every Friday during Lent. It's a dinner that serves the people of Hubbard, while strengthening the bonds of a proud religious community.
"We put a lot of time, effort and love into our food," said Laurie Chrobak, a St. Patrick parishioner who's been volunteering at the fish fry for the past seven years.
During that time, crowds at St. Patrick's hall have increased annually, said Chrobak. She credits the growth to hard work, dedication and some detailed preparations.
Those preparations begin Wednesday when the church receives 400 pounds of haddock, which immediately is unloaded and laid out to dry.
"If the fish is dry, it makes it that much better," said Chrobak. "We've had so many people come in and say they don't like fish, but when they try ours, they change their mind. It's important to have a nice dry, mild fish."
On Thursday, a portion of the haddock that's set to bake is seasoned and covered with Japanese bread crumbs before it's left to marinate in the refrigerator overnight. On Friday, crews arrive to set up tables, prepare takeout orders and make any last-minute preparations.
"I do whatever I'm told and whatever is needed," said Debbie Maughan.
She helps inventory, unload fish and marinate throughout the week.
"I try to be a team player," she said.
Mary Jo Shinosky said about 20 people help cook, serve and bus tables during the meal. She said some help batter and fry fish, or prepare a host of sides. The trimmings include macaroni and cheese, spaghetti, french fries, ravioli, pirogi and homemade haluski.
"I think our sides are what really separates us from the other churches in the area," said Chrobak.
Terry Ray said she tries to make it to the fish fry at least a few times during Lent. While she said the food is delicious, she enjoys seeing the community come together more.
"There are so many people that come out and you get to see some folks that you don't often see," she said.
Shinosky agreed with Ray. She said the fish is second to none, but it's camaraderie that makes the effort worthwhile.
"A few years ago, we only had a couple hundred people come and they would just eat and leave," said Shinosky. "Now we have six hundred people that eat, hang out for a while and talk. It's nice for everyone involved."