Playhouse begins drive for support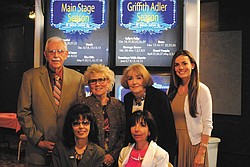 Photo
SPECIAL TO THE VINDICATOR Promoters of Youngstown Playhouse's Community Support and Season Subscription Drive are, seated from left, Pat Marsico and Denise DeBartolo York, and standing, Rand Becker, Playhouse board president, Dr. Cynthia Anderson, Mary Ruth Lynn and Margaret Schiavoni.
Staff report
YOUNGSTOWN
The Youngstown Playhouse will begin its annual Community Support and Season Subscription Drive for 2013-2014.
Pat and Richard Marsico will head the Community Support effort with Denise DeBartolo York, Dr. Cynthia Anderson, Carol Holmes and Margaret Schiavoni, co-chairwomen; and the Rev. Gregory Maturi, co-chairman. The campaign will fund the budget for the Playhouse's upcoming season.
The Playhouse has provided live theater for 89 years and has been committed to revitalizing the city, including the Idora neighborhood.
Plans for the Youth Theater Program include educational outreach to urban and rural schools that do not have theater programs. Also, plans are being made for an after-school theater arts program for children of the Idora neighborhood.
On Sept. 13, the season will open on the main stage with the area premiere of the musical "Spamalot"; a holiday production of "Honk" (a musical version of 'The Ugly Duckling'); "Arsenic and Old Lace"; and "The Wiz."
The Griffith-Adler Actors Series in the black box theater offers the Pulitzer Prize winning "Tally's Folly," and David Mamet's "Race, Strange Snow, Good People," and closes the season with "Tuesdays With Morrie."
For information call the Playhouse at 330-788-8739.