Mr., Mrs. Karsti host a party for golden milestone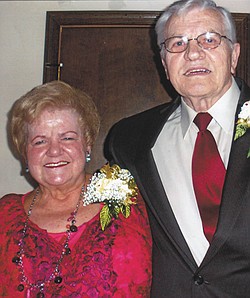 Photo
Mr. and Mrs. Michael Karsti
BOARDMAN
Lucinda and Michael Karsti of Boardman celebrated their 50th anniversary during a dinner with family and friends on June 8 at Carrabba's Italian Grill in Poland.
Mrs. Karsti, the former Lucinda Green, retired in 1995 after working as a self-employed hair stylist.
Mr. Karsti retired in 1993 from General Motors in Lordstown, where he was employed as a repairman. He is a member of the Saxon Club and served in the U.S. Army.
On June 8, 1963, the couple exchanged wedding vows at St. Luke's Lutheran Church, Youngstown. They are members of Glenwood Christian Fellowship.