Kira Botkin | Todd Harris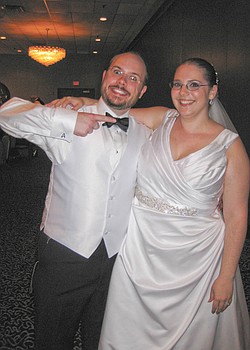 Photo
Kira Botkin and Todd Harris
YOUNGSTOWN
Stambaugh Auditorium provided the setting for the June 15 wedding of Kira Botkin and Todd C. Harris, both of Columbus, who were later honored at a reception at Mr. Anthony's Banquet Center in Boardman.
The Rev. Robert H. Quaintance officiated at the 5 p.m. ceremony.
The bride is the daughter of Alex and Mimi Botkin of Pittsburgh. Parents of the groom are Chuck Harris and Terry Calpin of Boardman.
The bride wore an A-line gown with a side-draped bodice and a chapel train. It was completed with a satin and crystal sash and a laced back.
Maid of honor was Ellen Botkin, sister of the bride. Bridesmaids were Anna Peterson, Molly Jones-Lewis and Lynn Garcowski. The attendants wore black gowns.
Ryan Kashubara, brother of the groom, performed the duties of best man. Groomsmen were Stephen Maiullo and Michael Nugent.
The couple are graduates of Case Western Reserve University.
Mrs. Harris received a bachelor's degree in physical anthropology and evolutionary biology. She is a clinical research coordinator at the Ohio Health Research Institute in Columbus.
Her husband earned a bachelor's degree in classics and computer science. He is a software engineer for the Online Computer Library Center in Dublin, Ohio.
The couple reside in Columbus.