Teddy's killer gets max; judge says no punishment enough
RELATED: CSB worker: Teddy's brothers tried to save him
By JOE GORMAN
jgorman@vindy.com
YOUNGSTOWN
Teddy Foltz tried to run the day he received the beating that killed him, but he couldn't run far enough.
Sentencing of Zaryl Bush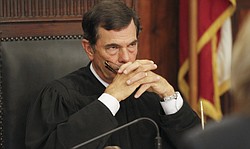 Video
The man who was sentenced Friday for torturing and killing him also couldn't run, as Zaryl Bush, 42, of Creed Street, Struthers, was sentenced to 33 years to life for killing the 14-year-old, abusing his twin brothers, now 11, and forcing them to lie for him about their brother's death.
Police and Judge R. Scott Krichbaum of Mahoning County Common Pleas Court recounted how Teddy had run from Bush and the home he was beaten in on Jan. 21, the day he received the beating from which he died five days later. Detective Jeffrey Lewis, who investigated the case, said Teddy was thrown outside into freezing weather after an earlier beating and ran away.
Bush enlisted the child's mother, Shain Widdersheim, to track him down, and when they found him, the results were not good, Judge Krichbaum said.
"You told him, 'Tonight, you're mine,'" said Judge Krichbaum, who while speaking in a calm voice appeared to be enraged and at times was biting down on his lip. "I can't imagine the fear that little boy had to feel."
Bush received a sentence of 15 years to life for murder and maximum sentences of three years each for two counts of child endangering, two counts of intimidation of a witness and one count of tampering with evidence. He pleaded guilty last week in a deal that spares the twins from testifying. Judge Krichbaum went over the recommended sentence of 22 years to life that was called for in the plea deal.
"What you did to him was not only evil, unconscionable — it was demonic," Judge Krichbaum said. "I can't imagine a human being treating another human being the way you treated this kid."
Bush is accused of administering the beating while at least one of the twins watched and was forced to clean up; and trying to fake a crime scene at Widdersheim's home. Police say he constantly had been abusing the three boys for more than a year. Widdersheim is to be sentenced in August for allowing the abuse to happen.
Teddy died Jan. 26 at St. Elizabeth Health Center, where he was taken after his mother first took him to St. Elizabeth Boardman Campus after he was beaten. During the beating that led to his death, Widdersheim ran some errands and played the lottery, Lewis said after court.
"We have the lottery tickets," Lewis said.
Police say the boys were beaten and verbally abused constantly, forced to walk on hot coals, and Teddy was made to stand outside in freezing weather. He had frostbite on his feet when he died.
When it was his turn to speak, Bush, in a high-pitched, soft voice, said he was sorry.
"I take responsibility for my actions," he said. "I'm sorry it happened."
His attorney, Ron Yarwood, said he did not know what to say, but he asked that Judge Krichbaum honor the sentence in the plea agreement, saying that a message must be sent to people that when they plead guilty and take responsibility for their actions, they should receive at least a measure of mercy.
Judge Krichbaum postponed sentencing last week because he wanted a chance to review the evidence before imposing sentence. He said that may not have been a good decision.
"I'm sorry I asked," he said. "I don't know if I ever felt this way before. I'm overwhelmed at what occurred here."
Judge Krichbaum said he agreed with the rationale of allowing the plea and not having a trial, which would force the twins to testify. But he also wondered if they could have used that as a measure for revenge.
"But in a way, it also gives them a chance to kick him back, or kick him in the head or burn his feet on coals or give him frostbite," he said.
Statements at Friday's hearing said that Bush punched Teddy in the face and knocked him down, then kicked him and slammed his head into a wall so hard it left an indentation from which crime-scene personnel could take blood samples.
"What you deserve is the same ridicule and abuse and scorn you inflicted on that little boy," Judge Krichbaum said. "I don't think there's a hole dark enough and deep enough to put you in."
It will be up to the state parole board to decide if Bush is ever released from prison on the murder charge, but Judge Krichbaum said he believes the crimes were so severe the board will never allow Bush to be released.