Julia Bigowsky, Stephen Perry to wed in July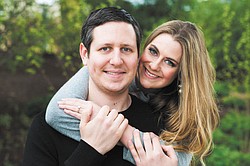 Photo
Stephen Perry and Julia A. Bigowsky
The parents of Julia Anne Bigowsky of Washington, D.C., and Stephen Perry of Falls Church, Va., are announcing the couple's engagement.
She is the daughter of Michael and Mary Bigowsky of Girard, and he is the son of Dr. Patrick and Denise Perry of Annapolis, Md.
The couple have planned a wedding for 4 p.m. July 5 at St. Stanislaus Kostka Church and for an evening reception at the Wyndham Grand. Invitations will be extended for the occasions, both in Pittsburgh.
The bride-elect achieved a bachelor's degree in business administration from Miami University and master's degrees in business administration and health-care policy from Carnegie Mellon University. She is employed as a health-care consultant for The Advisory Board in Washington.
The prospective groom earned a bachelor's degree in business administration from James Madison University. He also works for The Advisory Board, as a senior director.