Lugo, Scrappers blank Spikes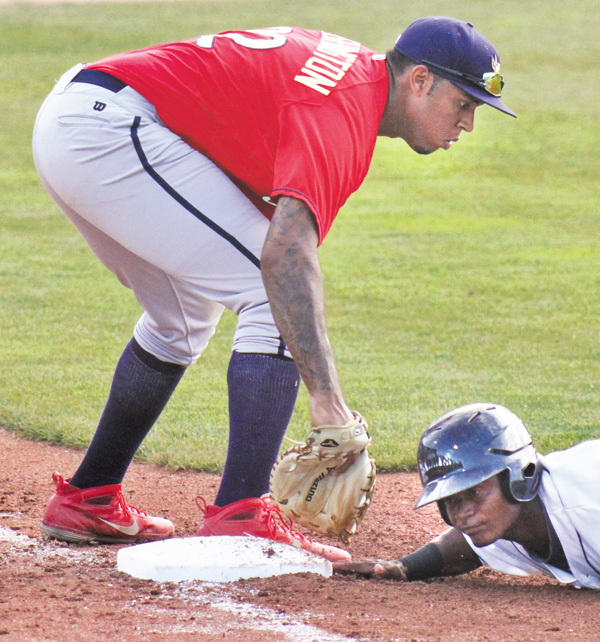 ---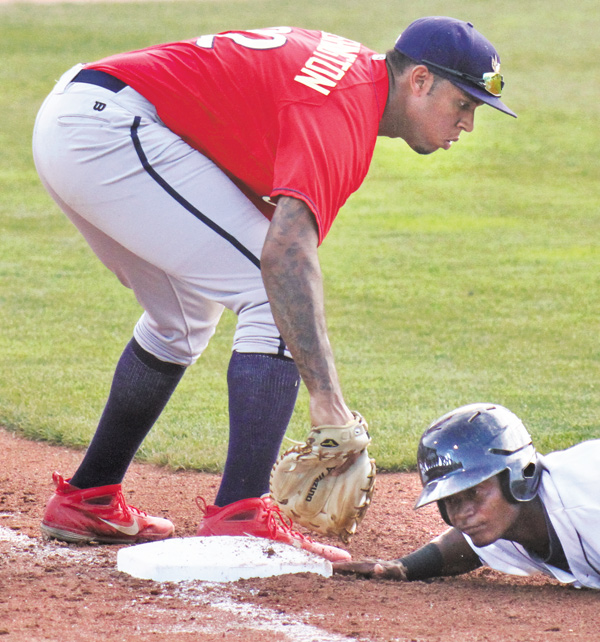 Photo
Mahoning Valley's Juan Herrera gets back to first as State College first baseman David Washington (32) tries to make the tag on pick-off attempt during a New York-Penn League game Thursday night at Eastwood Field.
By Joe Catullo Jr.
NILES
Before Thursday's game against State College, Mahoning Valley manager Ted Kubiak was asked what he thought about left-handed pitchers.
"There's something about left-handers that is funky," he said. "I've always hated facing left-handers."
The same could be said about starter Luis Lugo. The southpaw pitched five shutout innings, allowed one hit, struck out five and retired the last 14 batters he faced in a 2-0 victory, his first win this season. "I was focused on the game before I went out," Lugo said. "I felt really comfortable out there on the mound. All of my pitches were working."
One was his curveball, which accounted for three called third strikes. Four of his five strikeouts were looking.
"I don't think his breaking ball was as good as I've seen it, but it was good," Kubiak said. "The great thing about it is he's been throwing strikes with it and keeping the ball down."
Lugo allowed his lone hit to Cesar Valera, the second batter of the game. Then Lugo balked on the next pitch and Valera stole third. But Lugo said he knew why he received the balk and didn't let it faze him.
"I feel like this was a great start for me because my pitches were working good, and I felt comfortable out there," he said. "I don't look at the people or anything. I just look at the glove at home plate."
Manuel Carmona was another Scrapper Kubiak was impressed with Thursday night. Carmona who pitched two innings and allowed no hits and no walks. He struck out two and earned his second save.
"I think he was very well-balanced on the mound, and that's what he's capable of doing," Kubiak said.
Trevor Frank also pitched well, allowing one hit with two strikeouts to earn his first hold.
"We've been pitching lights out, there's no doubt about that. It's been incredible," Kubiak said.
The Scrappers (5-6) took a 1-0 lead in the bottom of the fourth inning when Manuel Boscan singled home Juan Herrera with two outs. In the eighth inning, the Scrappers got an insurance run from Claudio Bautista's second home run and ninth RBI.
It appeared to be a lazy fly ball in left field when he hit the inside fastball, but judging by his reaction he knew it was gone as he trotted to first base with his left arm high in the air. Bautista said he was looking for an inside fastball.
"He's able to get the bat head out, he's got good hands, and he's a good hitter," Kubiak said. "Nobody can throw the ball by him. He'll get his cuts."
The Scrappers went into Thursday's game scoring one run in each the fourth and eighth inning out of their 33 total runs scored.
The Scrappers will begin a six-game road trip today at Williamsport and end at Jamestown on Wednesday before returning home July 4.