Girls track team competes at national competition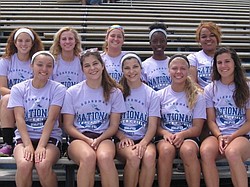 Photo
Neighbors | Submitted .Members of the Boardman High School girls track team who participated in the New Balance Outdoor National Track and Field Championships June 14-16 are, from left, (front) Arianna Cuevas, Heaton O'Hara, Regan O'Hara, Briana Fonderlin, Hope Landers; (back) Nikki Hillard, Morgan Hambrick, Giovanna Silvestri, Jada Redd and Daisy Robinson.
Ten members of the Boardman girls' track and field team traveled to Greensboro, North Carolina for the New Balance Outdoor National Track and Field Championships June 14-16 on the campus of North Carolina A & T. Qualifying athleted included seniors Giovanna Silvestri and Daisy Robinson; juniors Jada Redd, Nikki Hillard, Morgan Hambrick, and Briana Fonderlin; sophomores Heaton O'Hara, Regan O'Hara, and Hope Landers and freshman Arianna Cuevas.
There were two divisions at this meet, the Championship Division, where the standards are higher in order to qualify, and the Emerging Elite Division. Silvestri qualified in the Championship Division of the discus and finished in 27th place throwing 113'7". She also qualified in the emerging elite division of the shot put and threw 38'4", good enough for 16th place out of 42 throwers. Robinson threw in the same division and finished in 31st place throwing 35'9.5".
In the running events, the 1600 medley relay finished 10th out of 30 schools with a school record breaking time of 4:20.08. The team consisted of Nikki Hillard running a 200, Arianna Cuevas running the second 200, handing off to Jada Redd running a 400 and Regan O'Hara finishing the relay with an 800. They broke the previous school record of 4:25.9 set in 2009 by Brittany Tucker, Samara Sutton, Becca Muntean and Lauren Agnew.
The 4x200 meter relay team of Morgan Hambrick, Hillard, Redd and Cuevas ran 1:48.01 to finish 18th out of 29 teams. That time was their second best of the season. The 800-meter sprint medley relay ran 2:00.95 to place 22nd out of 26 schools. Hambrick opened up the relay by running 100 meters, handing off to Hope Landers running the second 100 meter leg, then to Cuevas running 200 and Heaton O'Hara anchoring with a 400-meter run.
Head Coach Denise Gorski accompanied the girls to the meet and was very pleased with their performances.
"It was a great experience for all of these girls to compete against some of the nation's best track and field athletes." Gorski said. "I was very pleased with all the girls and their overall performances and the 1600 medley relay had a great performance breaking the school record by over five seconds. This group of young ladies represented Boardman schools and the community very well."
Gorski said that she appreciated the support of sponsors throughout the community, without which the team may not have been able to compete.
"I also thank our sponsors, who helped defray the cost of the trip for the girls once again as they did last year," said Gorski. "We wore T-shirts with the sponsors names on the back to give them some publicity for their efforts as well. This meet now ends our 2013 season and I thank the girls, our coaching staff, parents and community for their support of our program."