Storms cause power outages throughout the region
Staff report
YOUNGSTOWN
Kinsman Storm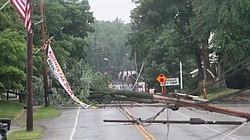 Video
Strong thunderstorms ripped through the Valley downing trees and power lines in Kinsman.
Motorists and home- owners contended with power outages and downed trees and power lines in the city and throughout Trumbull County after storms ripped through the Mahoning Valley early Tuesday evening, and today could bring more of the same.
No injuries were reported from the heavy rain and strong winds that tore through the region about 5 p.m.
Trees and power lines were down in the northeast quadrant of the city, including on Bott Street, Jacobs Road and Shannon Avenue, according to the fire-dispatch center.
In Trumbull County, widespread power outages were reported. Parts of Columbiana city also lost power.
Four electric poles were felled on Main Street in Kinsman. There also were downed wires and trees in Johnson Township, and Tibbetts-Wick Road at state Route 11 was closed because a power line came down.
The storm caused similar problems in both Hubbard city and township, according to Trumbull County's 911 dispatch center.
Brian Mitchell, a meteorologist with the National Weather Service in Cleveland, said winds in some areas reached between 50 and 60 mph. No rainfall estimate was available Tuesday night.
"The one today just developed with the air mass over the region," he said.
With high temperatures and humidity forecast for today, Mitchell said more storms could roll through.
David Turner, Ohio Edison's Mahoning County area manager, said about 1,800 Mahoning County residents, mostly in Youngstown and Beaver township, and 1,500 Columbiana County residents were without power Tuesday evening.
Robin Patton, Trumbull County area manager, said about 1,400 county residents were without power. They were concentrated primarily in Braceville, Girard, Howland, Kinsman and Newton Township.
Ohio Edison crews were working to restore power to affected areas.