Drugs, aliases, and a very angry pig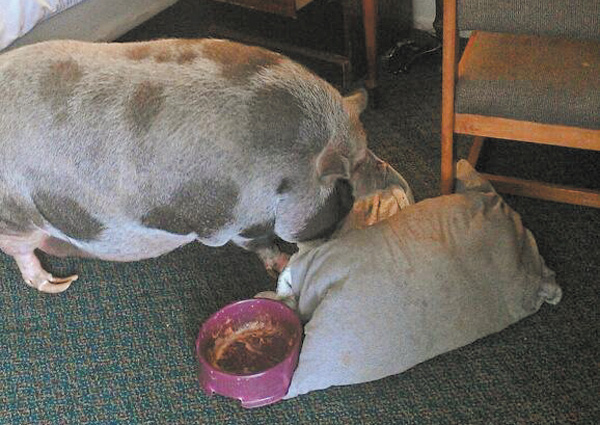 ---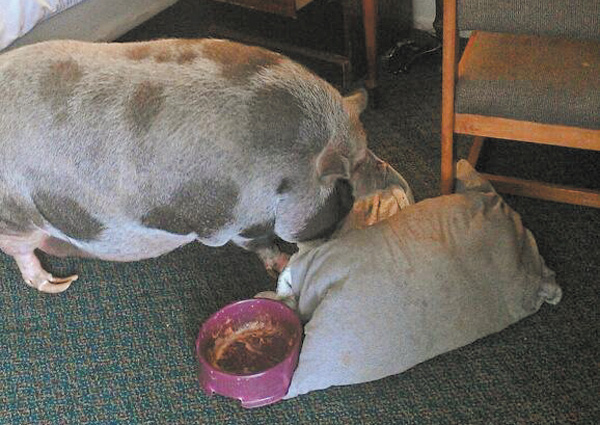 Photo
Penelope the 300-pound potbellied pig was found in a ground-floor room of Hotel 30 on Motor Inn Drive when Liberty police checked a tip that a wanted man was staying there.
By Lee Murray
TheNewsOutlet.org
Liberty
After someone squealed to police, officers knocked on the door of a ground-floor room of Hotel 30 on Motor Inn Drive.
Liberty Township police were following up Saturday night on a tip that a wanted man was staying there.
Heath Bechtel opened the door. The 40-year-old Sharpsville, Pa., man was being sought on a Mercer County warrant for trespassing.
Behind him in plain view was an array of drug paraphernalia, a selection of suspected narcotics, and something you don't see every day — a 300-pound pot-bellied pig named Penelope.
The man did not cooperate initially, police said.
Neither did Penelope.
"She was very aggressive to me, the other reporting officer, and the Trumbull County deputies," said Liberty officer James Smith, who was involved with both apprehending the man and relocating the pig.
"She's blind, and she was probably aggressive because she was scared," Smith added.
Police said the man initially gave them a false name, but after questioning admitted that he was Bechtel, and he was taken into custody.
Penelope, however, was still offering "snout" resistance.
The pig tried to bite police and Trumbull County deputies as they bagged the suspected narcotics. Penelope was kept in the room until Sunday morning when the Animal Welfare League of Trumbull County could remove her.
"We closed [the room] and made sure there was plenty of water and Gummy Bears for her," Smith said. "We had to lasso her, and she was none too happy about that. It was quite an undertaking."
Norm Richard, the motel manager, said he's glad the incident is over. He cleaned the room with a steam cleaner Monday.
"They asked me to hold on to the pig until animal welfare came and got it," he said. "It wasn't long, maybe a matter of hours."
"They claim that pigs are cleaner than dogs. I'm not sure," Richard added.
"But it's weird. It's more livestock than it is a pet," the manager added, reiterating that all animals are included in the motel's no-pets policy.
Smith said moving Penelope was somewhat difficult because of her size and aggressive nature.
"All pigs are quite vocal in those situations," said Kerry Pettit from the Animal Welfare League. She said Penelope calmed down during the ride to the Trumbull County facility.
"In fact, she was an easy transport compared to other pets we've dealt with. Perhaps the easiest pig transport of my career," she said.
Penelope is staying in a pen at the facility until she can be reunited with her owner. The league said it is addressing some health concerns, too.
"Our veterinarians are addressing a hoof issue because they are excessively overgrown," Pettit said.
TheNewsOutlet.org is a collaborative effort among the Youngstown State University journalism program, Kent State University, University of Akron and professional media outlets WYSU-FM Radio, The Vindicator, The Beacon Journal and Rubber City Radio, both of Akron.