Myers, Woods ace rehab stint at Eastwood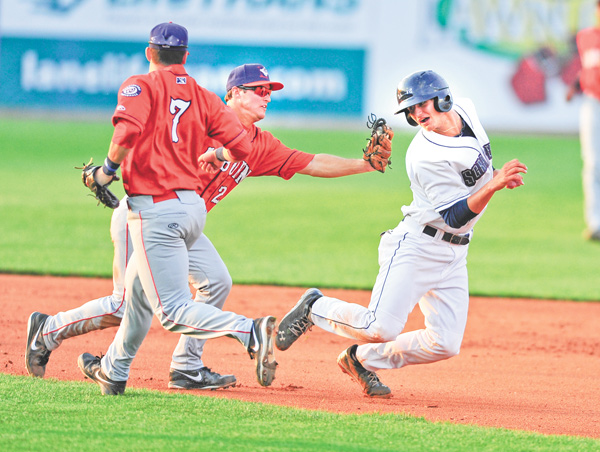 ---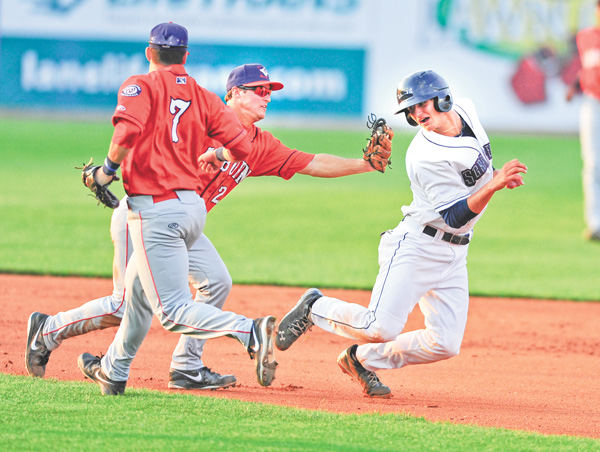 Photo
Scrappers baserunner Martin Cervenka, right, tries to avoid the tag of Doubledays infielder Cody Dent after being caught in a rundown in the fourth inning of Monday's game. Cervenka was eventually tagged out.
By Steve Ruman
NILES
The road back to Progressive Field went through Niles on Monday night for a pair of Cleveland Indians pitchers.
Brett Myers and Blake Wood each worked an inning in the Scrappers' 2-1 loss to the Auburn Doubledays.
Myers worked a quick second inning, throwing 11 pitches, eight for strikes. He retired Auburn catcher Austin Chubb on one pitch on a deep fly to right. Juan Valdez worked Myers to a full count before grounding out to third. Greg Zebrack struck out on three pitches.
Myers opened the season as Cleveland's No. 3 starter. With the Indians, he was 0-3 with an 8.02 earned run average before going on the disabled list with a sore right elbow. On Sunday, Indians manager Terry Francona said that when Myers returns with the Tribe, he will be used as a reliever.
Wood needed to throw just eight pitches to get through the third inning, though he surrendered a pair of hits. He gave up a solid single to center and an infield single on a sharply hit ball to third. However, he was aided by a 6-4-3 double play. He then ended the inning on a pop-out to the shortstop.
Wood (Tommy John surgery in May 2012) has been on the disabled list since early March. He has spent the season bouncing back and forth between Akron and Lake County after being acquired by the Indians off waivers last November. He previously played for Kansas City, appearing in 106 games, all in relief.
"[Myers and Wood] came here and did what they were sent to do," said Scrappers manager Ted Kubiak. "They were both scheduled to pitch just the one inning. It's all a part of the rehab process."
Neither player was available for comment following the game.
As for the game itself, the Doubledays scored single runs in the first and seventh innings to secure the win.
Auburn centerfielder Isaac Booth led off the game with a double, then scored on a two-out RBI single by Jordan Poole. The damage was done off Alexis Paredes, who usually works out of the bullpen, but who started because of Myers' and Wood's appearance.
Scrappers starter Robert Whitenack entered the game in the fourth, and completed five innings of work, giving up four hits and one run.
The Doubledays scored what would prove to be the game-winning run in the seventh on an RBI single off the bat of Juan Valdez.
The Scrappers' lone run came in the sixth when Juan Romero doubled, then scored on a Robel Garcia single.
"Our pitching and defense is strong, but we're just not stringing hits together," Kubiak said. "The guys are playing hard. They certainly aren't down."
DENTING THE LINEUP
Cody Dent started at second base for Auburn. A 22nd-round pick by the Washington Nationals in the recent June draft, Dent is the son of former New York Yankees All-Star Bucky Dent.
Dent was drafted out of the University of Florida, where he played in three College World Series and was named to the College World Series All-Tournament Team in 2012.
On Monday, Dent went 1-for-4. He is batting .250 with the Doubledays.
"It has always been my goal to play professionally, but you never know what to really expect," Dent said. "I had no idea where or if I would get drafted, so to have this opportunity is a dream come true."
Dent was born in 1991, long after his father won two World Series as the starting shortstop with the Yankees in 1977 and 1978. Bucky was named Series MVP in '78.
"What I saw of my dad was on video, especially his home run against Boston [1978 playoff tie-breaker game], which I've seen numerous times on ESPN Classic," Dent said. "But he coached for several teams while I was growing up and I was always around baseball."
"My dad is my role model. I feel very blessed, because I have a great baseball mind who I can turn to at any time."
Dent played his last collegiate game on June 8, then joined the Doubledays for their opener on June 17.
---
Scrappers 3, DOUBLEDAYS 1
AuburnAuburn
abrhbiabrhbi
Ballou cf4120Bautista 2b4000
Masters ss4010Garcia 3b4021
Gunter dh3000Herrera ss3000
Poole rf4011Rdriguez 1b4000
Yezzo 1b4120Cervenka c3000
Chubb c4000McAdams rf4010
Valdez 3b4011Ruiz lf4000
Zebrack lf4010Hamilton dh3010
Dent 2b4010Booth cf0000
Romero rf3120
Totals35292Totals32161
Auburn100000100—2
Scrappers000001000—1
E—Herrera. DP—Scrappers 2. LOB—Auburn 7, Scrappers 6. 2B—Ballou, Romero, McAdams. SB—Zebrack, Garcia.
IPHRERBBSO
Auburn
Orlan520015
Simko W, 2-0241103
Napoli100001
Hollins S, 2100000
Scrappers
Paredes121101
Myers100001
Wood120000
Whitenack L, 0-1541113
Heller110002
WP—Simko, Whitenack. HBP—by Napoli (Herrera). Umpires—Home, Derek Moccia; Bases, James Pattison. T—2:28. A—2,435.