Undernourished children at risk for health, behavioral, educational issues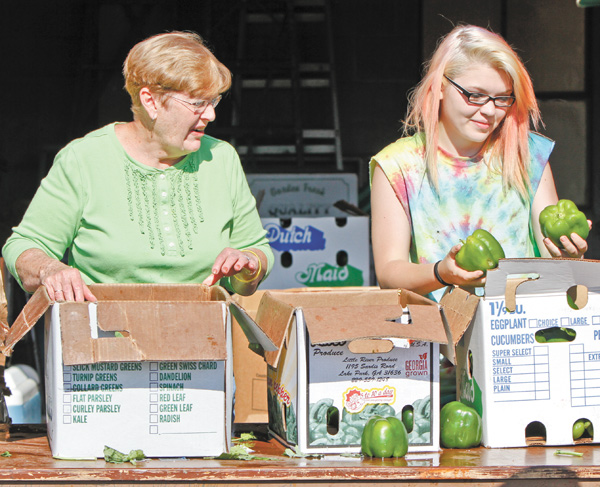 ---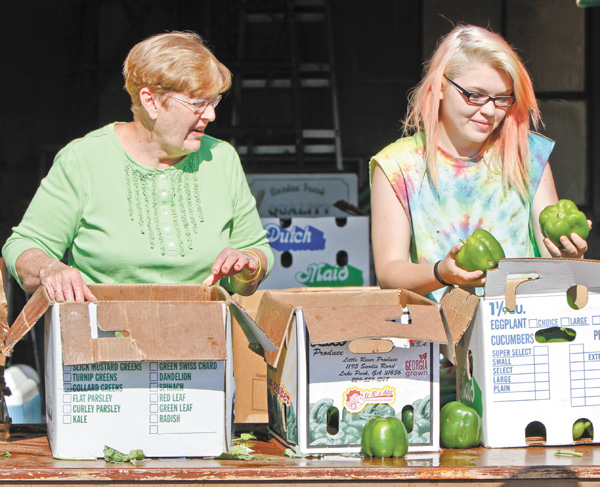 Photo
Sue Engler, left, of Braceville is helped by her granddaughter, Hannah Engler, a student at LaBrae High School, with Warren Emmanuel Lutheran Church's produce distribution. Engler and her husband, Randall, organize the church's distribution programs.
WARREN
A Warren grandmother said the produce distribution at Emmanuel Lutheran Church helps toward the end of the month when food stamps run out.
"It's good food for the kids [she is raising grandchildren 14 and 6], especially in the summer when they don't get free breakfast and lunch at school," she said while waiting in line Thursday.
Emmanuel Lutheran on Cherry Street offers fresh fruit and vegetables, most of which they get from Second Harvest Food Bank of the Mahoning Valley, every other Thursday from 9 to 10:30 a.m.
At Thursday's distribution, consumers could receive a variety of fruit and vegetables, said Sue Engler of Braceville.
Engler and her husband, Randall, operate Emmanuel Lutheran's produce distribution and the free lunch and food pantry programs from 10:30 a.m. to noon on the next to the last Friday of the month. The church also houses a Warren City Schools Summer Food Service lunch program.
The church-feeding programs also receive help from the Warren Loyal Order of Moose Lodge 186, Catholic Charities, and individual and group donations of money and shelf-stable food products, Mrs. Engler said.
About a dozen volunteers from the church, Second Harvest, and the Englers' family, including their granddaughter, Hannah Engler, a sophomore at LaBrae High School, helped with the produce distribution.
"We do it because there is a need — God's work, our hands," said Mrs. Engler, a retired Newton Falls school teach. Her husband is retired from Delphi Packard.
The need is documented by a new study that found that 91,600 people in Columbiana, Mahoning and Trumbull counties, including 31,430 children, do not always know where they will find their next meal.
On average in 2011, the latest year for which the statistics are available, 16.4 percent of the population in the tri-county area struggled with hunger, according to findings from Feeding America's "Map the Meal Gap" study.
Second Harvest Food Bank is part of Feeding America, a nationwide network of more than 200 food banks that together provide food to more than 37 million people through 61,000 food pantries, soup kitchens, and shelters in communities across America.
"Food insecurity is one of the leading public-health challenges in the United States," said Dr. Craig Gundersen, professor of agricultural and consumer economics at the University of Illinois, an international food insecurity expert and the lead researcher of the "Map the Meal Gap" study.
"This data has the potential to redefine the way service providers and policymakers address food insecurity in the communities they serve," he said.
According to the U.S. Department of Agriculture, more than 50 million people nationwide are food insecure.
The USDA defines two levels of food insecurity: low food security, or food insecurity without hunger but with reduced quality, variety, or desirability of diet; and very low food security, or food insecurity with hunger with multiple indications of disrupted eating patterns and reduced food intake.
"In everyday terms, it means people don't get enough quality foods, such as fresh fruits and vegetables, or they just do not have enough to eat," said Michael Iberis, executive director of the Mahoning Valley food bank.
"We are particularly concerned about children who are undernourished," Gundersen added. "A child who does not receive adequate nutrition may experience behavioral problems, have difficulty concentrating in school, and has an increased risk of medical problems. Lack of adequate nutrition in children, for even a brief period of time, may also cause permanent physical and developmental impairments."
There are a number of reasons that people find themselves in food distribution lines, many who never expected to be there.
The Mahoning Valley has lost livable-wage jobs at an unprecedented rate, and the flagging economy is not creating enough of those livable wage jobs to replace them, Iberis said.
Changes in buying patterns cost Charles Aron of Warren the television- repair business he operated for 10 years.
With the advent of flat-screen televisions, people don't get their televisions fixed anymore; and at age 59, he has been unable to find a job.
"This helps out," Aron said of the produce distribution.
Along with children, seniors are hard-hit by food insecurity.
Iberis said seniors often say, "I never thought I would live this long. I never thought I'd be in a food line."
Their income is based on Social Security and retirement income based on the 1960s and 1970s, and it just isn't enough, Iberis added.
Second Harvest Food Bank of the Mahoning Valley provides food to 153 hunger-relief organizations in the tri-county area.
Each week, the food bank and its member agencies fill more than 15,000 requests for food assistance in the Valley. For information on how to help feed hungry families, visit www.mahoningvalleysecondharvest.org, or call 330-792-5522.