Loomis, Butler rebound from near misses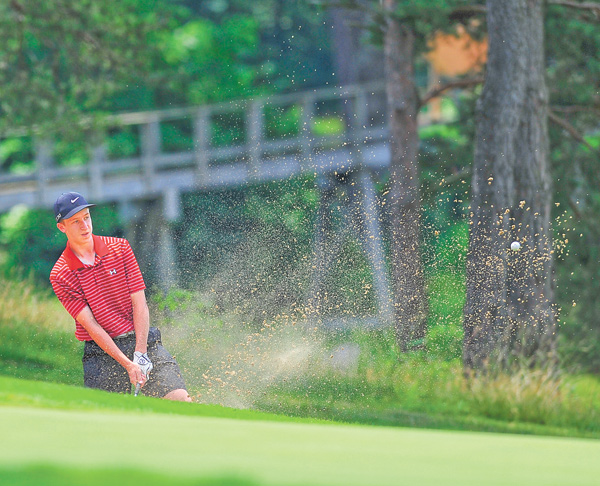 ---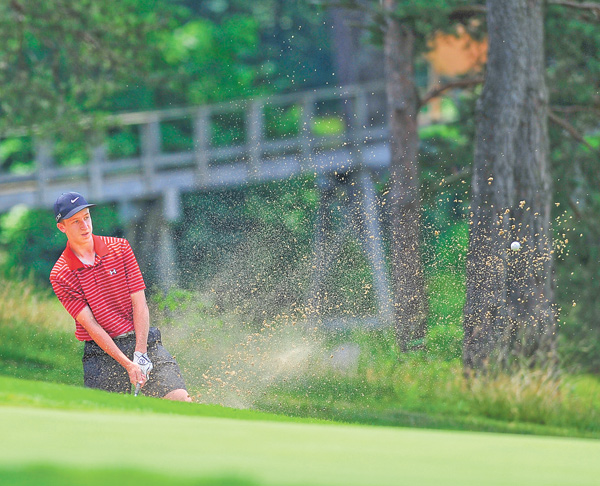 Photo
Nick Braydich of Mooney chips out of the sand trap and onto the green on the 18th hole at Monday's Greatest Golfer of the Valley junior qualifier at Salem Golf Club.
By Ryan Buck
SALEM
Legendary sports columnist Jim Murray once referred to golf as "the cruelest of all sports. It's a boulevard of broken dreams."
Despite strong play thus far this summer, two junior competitors set out on the road to redemption in the Greatest Golfer of the Valley presented by Farmers National Bank.
Scorecard playoffs have kept Cait Butler and Kerra Loomis from qualifying for the third annual tournament's final round in the Girls' 15-17 year-old age group.
Butler and Loomis left no doubt on Monday as the girls carded an 80 and 84, respectively, at The Salem Golf Club.
After a near miss at the Mohawk Trails event, Butler felt at ease with her play and saw the same attitude in Loomis, who nearly qualified at the opening event at Pine Lakes a week earlier.
"Everything was coming together pretty well," said Butler, a junior at Cardinal Mooney.
"It's a good feeling knowing we came back, overcame that and played well."
The high temperatures made for dry, fast greens within the course's hilly terrain.
Butler's strong front nine and consistency throughout the round were vital.
"The course is tough, but if you play shots right it can turn out to be pretty easy," Butler said. "So overall, it was a good day."
In the Boys' 15-17 group, Lisbon sophomore Avery Andric picked the perfect day to shoot the best round of his life.
Andric emerged from the difficult first five holes unscathed, then carried a front-nine 38 to an 18-hole score of 79.
As a first-time Greatest Golfer participant, Andric had one thing on his mind before teeing off: "To break 90. I just didn't want to shoot in the 100s.
"It's pretty exciting. With two doubles I didn't think I had a chance to shoot 80. I parred the first five holes. Then I had a bogey on six. From there on out, it was just pars on the front nine."
Andric navigated the course with deft touch around the greens after towering drives that set him up for manageable looks at par that are hard to come by at Salem.
"The greens are really fast," Andric said.
"You've got to read the greens and make sure you don't over-hit them because they're some of the quickest around. There are a lot of blind shots out on the course that you have to know where to hit it."
Four shots behind Andric was Mooney junior Nicholas Braydich. After some misfortune in the latter stages of the front nine, Braydich settled in with accuracy off the tee.
"I doubled eight and then I said if I could shoot 1 or 2 over after that I could probably keep it going," Braydich said. "Nine through 14, that's where I started getting my momentum.
"My driver was in the fairway most of the time. I had a lot of shots at the hole. I made a lot of 5-footers I needed to make. I didn't make many long putts, but I just stayed patient and kept my round going."
Zach Jacobson and Bobby Jonda carded nine-hole rounds of 44 and 46, respectively, to qualify for the final round in the Boys' 12-14 group. Maura Flaviano, with a round of 49 and Britney Jonda, 54, followed suit on the Girls' side.
For more tournament coverage, see vindy.com/golf and daily updates in The Vindicator's print edition.