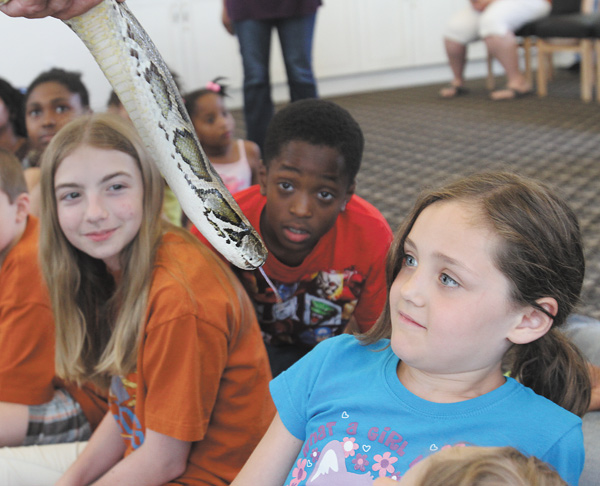 ---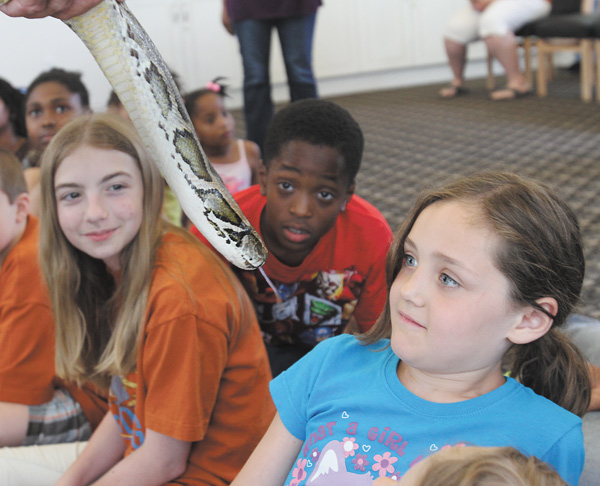 Photo
A 12-foot Burmese python gets the full attention of, from left, Hannah Harris, 12; Naiden Maynard, 8; and Kyleigh Kiester, 7, during an animal presentation by Jungle Terry. Terry, whose real name is Terry Sullivan, showed off the reptile Monday at the East Side public library on Jacobs Road.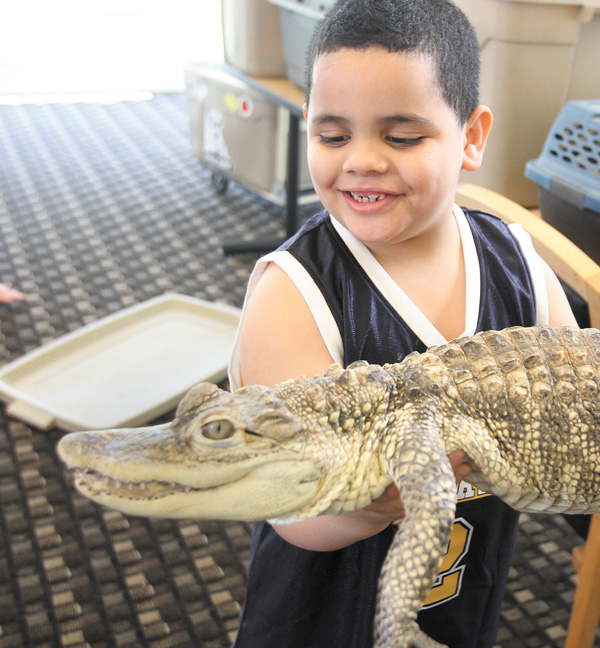 Photo
Jose Perez, 6, doesn't appear to mind holding this alligator at the presentation.
By Sean Barron
YOUNGSTOWN
Eight-year-old Naiden Maynard might be too young to take a stand on many issues, but he's the right age and size to take a stand on a tortoise.
"I liked the two turtles; I liked the turtle race," said Naiden, referring to two of the many animals that he and about a dozen other children petted, touched and held last week at the East branch of the Public Library of Youngstown and Mahoning County, 430 Early Road on the East Side.
The animals' appearance was courtesy of Jungle Terry, an Ashtabula County-based animal entertainer who used his traveling zoo to conduct a one-hour educational program for the youngsters.
A major attraction was his 19-year-old tortoise from Africa, which was about 18 inches long and had a shell thick enough to support Naiden's weight.
"It was kind of bumpy," added Naiden, of Murfreesboro, Tenn., who's visiting family in the area. Accompanying the boy at the show was his brother, Nigel, 6; sister, Amira, 4; cousin, Guyon Young, 8, all of Murfreesboro; and his aunt, Sonja Underwood of Boardman.
Jungle Terry also brought and explained various characteristics of a hedgehog, which often resembles a ball of fur when curled; a chinchilla from South America that looks similar to a small gray bunny; a prairie dog from one of Colorado's prairie regions; a light-green tree frog from Australia; four small, colorful snakes; and a 45-pound, 12-foot snake, a type that can weigh up to 100 pounds and is common in Florida's Everglades.
Also part of the traveling show were two black scorpions, a small alligator, a white dove, two Chinese chickens and two land turtles, one of which he nursed back to health.
"They live on land, so guess what? They can walk and run," Jungle Terry told his young audience before subjecting the two turtles to a small race — and plenty of laughter.
Referring to the hedgehog, he added: "They totally love to dig. We have cities above ground; they have cities underground."
The chinchilla and prairie dog were a hit for 12-year-old Hannah Harris and younger brother, Matthew, 9.
Both animals conjured memories of a summer family vacation to Colorado and Wyoming, areas where prairie dogs are plentiful, recalled Hannah, who also enjoys swimming, drawing and playing outdoors.
"The chinchilla was so soft and it reminds us of our cat at home," added Matthew, who got to hold on his outstretched arm Jungle Terry's dove, and kept a souvenir feather to show for it.
As the performance wrapped up, Jungle Terry stressed the importance of hand washing after handling the animals. He also made his enthusiastic audience aware of a variety of books about animals the library offers.