Scrappers' Hamrick mows down Doubledays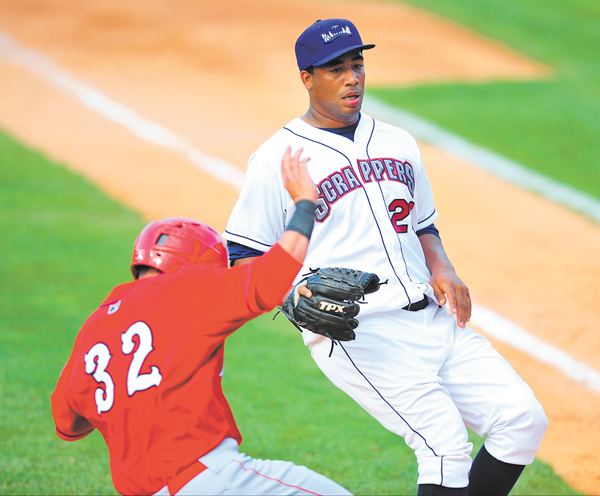 ---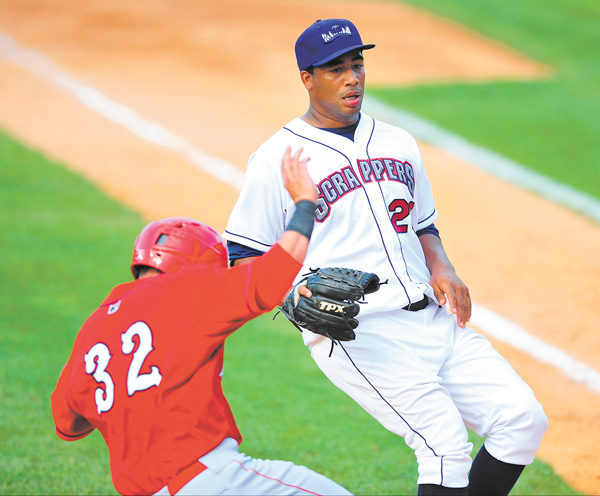 Photo
Auburn baserunner Erick Fernandez slides into home plate while Scrappers pitcher Harold Guerrero attempts to cover home after throwing a wild pitch in the top of the sixth inning of Sunday's New York-Penn League game at Eastwood Field. The Scrappers won 3-1.
By Steve Ruman
NILES
Sunday was Superhero Day at Eastwood Field. Superman, Batman and the Incredible Hulk were among the superpowers roaming the stands when the Mahoning Valley Scrappers hosted Auburn.
On the field, Caleb Hamrick is quickly turning into the Scrappers' version of a pitcher with super attributes.
Hamrick on Sunday picked up his first win of the season in a 3-1 victory over the Doubledays. The 19-year-old righty retired the first 13 batters he faced, working five scoreless innings while surrendering just one hit.
In his only other outing of the season, Hamrick retired the first 12 batters he faced, and struck out five while surrendering one earned run on three hits.
"Caleb has had really good command of his fastball, and he's keeping it down in the zone," said Scrappers pitching coach Scott Erickson. "He has good location on both sides of the plate."
"He has looked really smooth. Right now, he's doing a really good job of making things look effortless."
Hamrick was able to pick up a victory thanks to a three-run fifth inning.
Leadoff hitter Claudio Bautista started the frame with a single. Following a strikeout by Robel Garcia, consecutive doubles by Juan Herrera, Nellie Rodriguez and Martin Cervenka each plated a run.
Bautista is batting .407, good for fourth-best in the New York-Penn League.
"They say hitting is contagious, and that seems true. Once Claudio got that hit, we all seemed to gain some momentum," Rodriguez said.
Rodriguez is just 19. He was drafted by the Indians last year out of George Washington High in Manhattan. He learned he was picked in the 15th round of the June 2012 draft while he was shopping for a tuxedo for his senior prom.
"I was at Men's Warehouse when I got the call," Rodriguez said. "I spent a year in Arizona, and now here I am. It's been an exciting year, and I feel as though my progress is going along as I hoped it would."
Manuel Carmona pitched a scoreless ninth to pick up the save — the first for a Scrappers pitcher this year. Carmona walked the first batter he faced, but then retired three straight to seal the victory.
REHAB CENTRAL
Indians pitchers Brett Myers and Blake Wood will make rehab appearances tonight at Eastwood Field.
Myers (right elbow inflammation) went on the 15-day disabled list retroactive to April 20, and he was transferred to the 60-day DL on June 10.
Myers opened the season as Cleveland's No. 3 starter. With the Tribe, he is 0-3 with an 8.02 earned run average.
Wood (Tommy John surgery in May 2012) has been on the disabled list since early March. He has spent the season bouncing back and forth between Akron and Lake County.
There is also a chance that Indians closer Chris Perez will pitch at Eastwood Field this week. On Saturday, Indians manager Terry Francona said that Perez would make a rehab appearance with the Scrappers on Tuesday. However, on Sunday, Francona said that Perez's next appearance would be based on how he felt after throwing a simulated inning against Akron earlier in the day. Perez (shoulder) has been on the disabled list since May 27.
---
Scrappers 3, DOUBLEDAYS 1
ScrappersAuburn
abrhbiabrhbi
Bautsta 2b3110Ballou cf3000
Garcia 3b2000Masters 2b4010
Herrera ss4121Difo ss4000
N.Rdrgez 1b4111Yezzo 1b4000
Cervenka c3011W.Rdrguez rf3010
McAdms rf4020Gunter 3b3000
Ruiz lf4000Valdez dh3000
Hmilton dh3000Zebrack lf3000
Booth cf3000Frndez c3110
Totals30373Totals30130
Auburn000001000—1
Scrappers00003000x—3
E—Selsor, Fernandez. DP—Auburn 2, Scrappers 0. LOB—Auburn 3, Scrappers 9. 2B—W. Rodriguez, Fernandez, Herrera, N. Rodriguez, Cervenka.
IPHRERBBSO
Auburn
Johansen2 1-300030
Selsor L, 0-12 2-363334
Mudron200002
Sylvestri110002
Scrappers
Hamrick W, 1-1510002
Guerrero1 1-321103
Stokes1 2-300001
Carmona100011
Umpires—Home, James Pattison; Bases, Derek Moccia. T—2:22. A—3,078.