A contractor will pave portions of at least 58 streets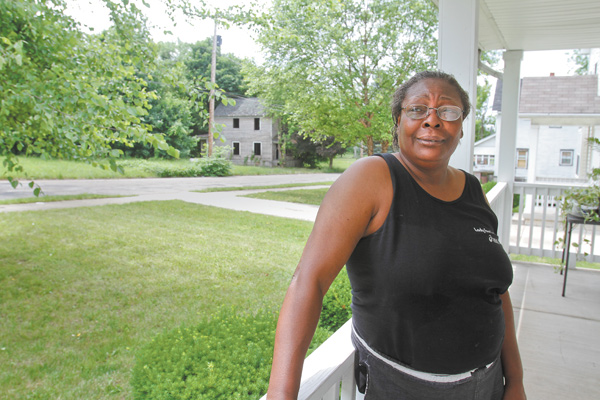 ---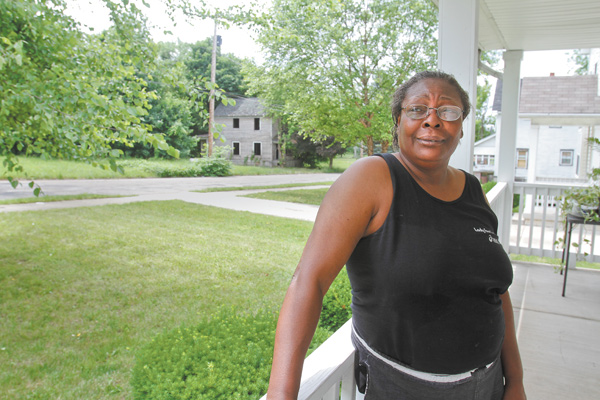 Photo
For Marshone Blair, who's lived at 906 Woodland Avenue with her family for the past three years, paving work can't come soon enough. "We've been waiting forever for it to be fixed. They've never paved this road since I've been here, and it's getting worse," she said.
YOUNGSTOWN
A North Lima contractor hired by the city will pave portions of at least 58 streets this summer.
The final number likely will be 61 because the lowest proposal for the work came in below the city's budget of $1,279,000, said Charles Shasho, deputy director of the city's public works.
The city's board of control selected RT Vernal Paving & Excavating of North Lima as the contractor. The company submitted the least-expensive proposal, $1,141,147.50, from among five businesses seeking the road-improvement job.
This is RT Vernal's first time handling the city's summer paving project.
The paving will be on portions of 58 streets, nearly all of it in residential areas. The work will start at the end of this month or early July and take up to 75 days to finish, Shasho said.
The city should have enough money to pave an additional three streets with the $137,852.50 it has yet to spend from the street-paving budget, he said.
The city uses $750,000 of its federal Community Development Block Grant for paving with the rest coming from its $5 motor vehicle license-tax fund and a small amount from the general fund and the water and wastewater fund, Shasho said.
The amount spent each year on the paving program is part of the city's overall budget plan, he said.
The city spent between $1,146,476 and $1,543,186 on its annual paving program between 2004 and last year, though it only exceeded $1.3 million three times in that period.
The rising cost of asphalt — going from $75.50 per cubic yard in 2001 to $134 per cubic yard this year, though that's $10 less per cubic yard than in 2012 — forced the city to reduce the amount of paving over the past few years, Shasho said.
Asphalt prices are up because of the increased cost of petroleum, a key component of asphalt, he said.
The city paved 32 lane miles in 2001 compared with 21 this year. That could increase to 22 lane miles depending on what additional work is done with the leftover money. A lane mile is one mile long and 12 feet wide.
Among the streets being paved this year are Woodland Avenue between Edwards Street and Glenwood Avenue, and Lakewood Avenue between Thorne Street and Oak Hill Avenue, both on the South Side.
That portion of Woodland is torn up with numerous potholes. The condition on that section of Lakewood is even worse with holes so big and deep that the old brick road below the asphalt is largely visible.
There are more vacant parcels than occupied homes on both streets.
There are 16 lots on that section of Lakewood with only four houses, all occupied. The rest of the street is filled with overgrown grass that used to be the locations of about a dozen structures that are long gone.
On that section of Woodland, there are about 20 empty lots, six abandoned houses, seven occupied houses, and an unoccupied house built in 2001. That latter house and one of the seven occupied are owned by Jubilee Homes, a company that builds homes for low- to moderate-income families, allowing them to rent to own.
Marshone Blair, who's lived at 906 Woodland with her family for the past three years, said the condition of the road is terrible.
"Every year they patch and they do a sorry job," she said. "We've been waiting forever for it to be fixed. They've never paved this road since I've been here, and it's getting worse. I'm trying to keep my house up and the street looks like crap."
Western Reserve Transit Authority buses drive regularly on Woodland, and the street is a popular pass-through for those going to and from Glenwood and Oak Hill avenues, she said.
"It's used a lot with people flying up and down this street," Blair said. "They can probably bust an axle on this road with the way it is. It's good news they're fixing this road. If you want to keep people in the city, you need to take care of the streets."
The city doesn't look at the number of houses on a street when determining if it will be paved, Shasho said.
"We look at vehicular traffic, and people use both streets to cut through," he said. "Also, just because people moved out and there are only a few living on a street doesn't mean they don't deserve to have the city provide services to them."
When selecting streets, the city doesn't take into account the last time they were paved, Shasho said.
The city also hired Thomas Fok & Associates of Austintown for $81,010 for construction inspection and testing for the paving project.