Vendemias honored with family dinner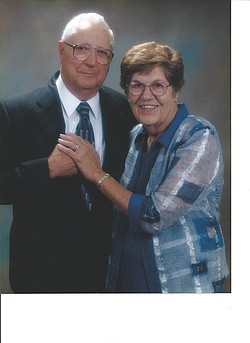 Photo
MR. AND MRS. GUY VENDEMIA
YOUNGSTOWN
Mr. and Mrs. Guy Vendemia of Youngstown were honored for their 60th anniversary June 6 at a family dinner at Springfield Grille in Boardman. Their children and grandchildren hosted the celebration.
Their children are Barbara Vendemia (Michael) Pacak of Bellingham, Mass., and Bill (Maureen) Vendemia of Boardman.
They have three grandchildren.
Mr. Vendemia married the former Ruth Rentsch on June 6, 1953, at St. Brendan Church.
The couple are members of St. Joseph Parish in Austintown.
Mrs. Vendemia was an accounts payable clerk for General Motors in Lordstown and retired in 1986.
She was a member of the Ladies Guild of St. Joseph Church and has been a member of the Gals Club of Austintown Fitch since high school.
Her husband was a teacher and athletic director for Liberty High School, and he retired in 1983. He is a member of Curbstone Coaches and Retired Teachers Association, and he is a charter member of Liberty Sports Hall of Fame.
He served as a Navy second class signalman during World War II.