Satterfields' 60th anniversary is celebrated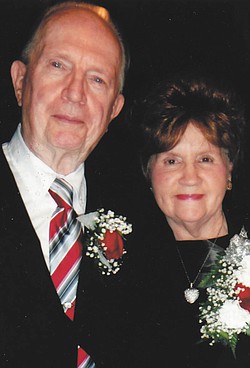 Photo
MR. AND MRS. THOMAS SATTERFIELD
AUSTINTOWN
Mr. and Mrs. Thomas W. Satterfield of Austintown celebrated their 60th wedding anniversary June 15 at the Springfield Grille in Boardman. Their family, including a nephew and niece, Kurt and Judi Stocker of Poland, hosted the event.
Their children are Gaye L. Tyhosky of Youngstown and Thomas H. Satterfield of Pinson, Ala. Grandchildren are Lyndsey Tyhosky of Akron; Anna Satterfield and John T. Satterfield, both of Pinson; and Heather Neider of Youngstown. Great-grandchildren are Sylas, Mazie and Kylan Neider, all of Youngstown.
Mr. and Mrs. Satterfield were married June 13, 1953, at First Presbyterian Church, Wheeling, W.Va.
The couple are members of Emmanuel Community Church, Canfield.
Mrs. Satterfield, the former Lou Ann Smith, worked as a nurse's assistant and companion at Park Vista and retired in 1986.
She is a member of Christian Women Outreach Ministries.
Mr. Satterfield worked in quality control for General Motors in Lordstown and retired in 1995.
He is a member of the National Woodcarving Association and served with the 101st Airborne Screaming Eagles Division of the U.S. Army.