YSU President Cynthia Anderson prepares to leave office
By Denise Dick
YOUNGSTOWN
Her cellphone blares AC/DC's "Highway to Hell," and the Rolling Stones, Aerosmith and Lynyrd Skynyrd fill her play list.
Dr. Cynthia Anderson, reflections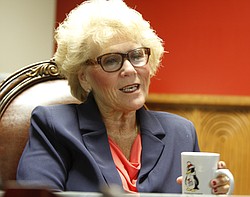 Video
Dr. Cynthia E. Anderson, YSU's seventh president, retires June 30.
"The biggest compliment someone can give me is, 'You haven't changed,'" said Cynthia E. Anderson, Youngstown State University's seventh president, who retires next Sunday.
She never wanted to change to fit a particular role or to try to make people believe she was something she wasn't.
"I like rock 'n' roll, and I don't think I have to stop liking rock 'n' roll because I'm the president of a university," said Anderson, 62.
Nor does she think a person in charge has to be hard-charging to get things done.
"When I first took office, someone told me that I needed to get a navy-blue suit, I shouldn't laugh or smile as much or I wouldn't be taken seriously — and to not be too emotional," she said.
Anderson declined to identify the person who offered the advice.
She eventually got a navy- blue suit, but her management style didn't change. She continues to wear pieces of her less-conservative wardrobe too.
The best advice she's ever gotten came from her parents, the late Lawrence and Garnet Anderson.
"My mother and father told me, 'Always be true to yourself,'" Anderson said.
She and her husband, Brian, are moving to Nevada where they have a home but will keep a condominium in the Mahoning Valley.
They'll spend those first months as they have the last several summers, boating on Lake Mead or sitting out on their patio. When late August approaches though, the time she would customarily be getting ready to return to campus, it will really hit her.
FOUR DECADES AT YSU
Anderson, a YSU graduate, spent most of her career — all but five years when she taught at Westerville South High School in central Ohio — at YSU.
She started as instructor in 1979, moved up the ranks to professor, associate provost to vice president of student affairs before university trustees selected her president in 2010.
Anderson was the first YSU graduate, first Valley native and first woman to sit in the president's office, but she hates that label.
"I'm just Cindy Anderson," she said.
The rest of it either isn't something she had control over, or isn't something that's relevant.
She concedes though that some people underestimated her when she was appointed — likely because of her gender.
"There's a very different expectation of us when it comes to intelligence level," Anderson said.
Some doubted her capacity to generate economic development or to come forth with new initiatives.
"I don't think there's an institution where you'll find more initiatives," she said, adding that they weren't all her ideas.
Anderson can't believe so much time has passed since she set foot on campus as a freshman in 1968.
"It's like it's surreal," she said.
She always knew she wanted to be a teacher, but she also took business courses and learned typing and shorthand so she'd have something to fall back on if a career in teaching didn't work out.
"I was always prepared," she said.
That's something else she learned from her parents.
They met while working at Packard Electric.
"My dad ran over her foot with a tow motor," she chuckled.
They went out for coffee, and the rest was history. Her father spent the bulk of his career working at The Vindicator, serving as property manager, composing room foreman and facilities manager before retiring.
There's not much she regrets about her career, but she wishes her parents could have seen her become YSU's president.
"They would have glowed and just been amazed," she said.
Upon her appointment, she established a scholarship in their names.
An only child, Anderson was the first of her family to go to college.
Her mother died in 1991 and didn't get to see her become vice president. Her father died in 2000 so he watched as his daughter ascended to vice president.
When she was offered the associate provost for academic planning position in 1993, she wasn't sure she should take it.
"I told my dad, 'I really like being in the classroom. I don't know that I want to do this,'" Anderson said. "He told me, 'You need to grow up. This is an opportunity. You're taking that job.'"
ACCOMPLISHMENTS
She's proud of what she's accomplished during her tenure, trimming $5 million from the university operating budget in two years, adding degree programs and seeing students graduate and achieve success.
"I cry at every commencement," Anderson said.
She may pursue some sort of higher-education position in Nevada but right now, she's not in any hurry.
"I can't just sit and do nothing," she said. "That's not me."
Anderson hopes to become active in YSU's alumni society and likely will devote time to a few philanthropic groups.
"I have two passions besides education: children and animals," Anderson said.
She always knew she wanted to be a teacher and points to Virginia Phillips, a retired business education professor, as a mentor.
Besides her parents and her husband, other influences on her life and career have been former President Leslie Cochran, former provost Jim Scanlon and Ikram Khawaja, provost and vice president for academic affairs.
Khawaja will serve as interim president after Anderson's retirement, before YSU's eighth president, Randy Dunn, assumes the post July 15.
Dunn has been president of Murray State University in Kentucky since 2006.
Anderson advises her successor to appreciate and use the university's workforce as well as the community.
"I never would have expected to get the support the community gave me," she said. "Never a day went by when someone didn't walk up to me — people I didn't even know would come up to me at the grocery store — to offer support."