Reunion at Ohio State Fair will light the choir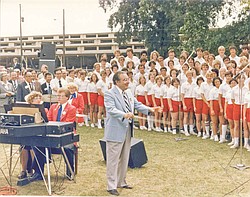 Photo
The late Glenville Thomas is shown directing the All-Ohio State Youth Choir during a performance at the Ohio State Fair for foreign visitors. The choir will reunite and sing at the fair this August to commemorate the 50th anniversary of the founding of the choir by the former Zanesville music director. Special to The Vindicator
By Ron Ishoy
When Joe Lexso was 18, the shy and gangly teen went from singing in the spring musical on stage at Bristol High School to performing with a statewide choir of talented all-star singers atop a mountain in Switzerland, at Royal Albert Hall in London and in the Rose Bowl parade in California.
That memorable year was 1976, and being a member of the All-Ohio State Fair Youth Choir changed Joe Lexso's life.
"Who would have ever thought a farm boy from Bristol would ever do even one of the many mountain-top experiences I was lucky enough to do when I was part of the youth choir," he recalled recently.
Lexso, now a retired Trumbull County engineering department employee, is one of hundreds of former All-Ohio State Fair Youth Choir singers who will reunite and sing at the Ohio State Fair this August to commemorate the 50th anniversary of the founding of the choir by the late Zanesville music director Glenville Thomas.
The reunion is the brainchild of Girrard Stewart of Niles, a 1968-69 choir member and longtime youth choir assistant director under Thomas.
Stewart, who grew up in Orville and studied music education at Kent State, says celebrating Thomas' founding of the choir was a promise he made to Thomas' wife, Marie, before she passed away in 2011.
"The promise was to keep the dream alive, to keep sharing the music with the audiences along with that spirit that Glenville instilled in all of us," said Stewart, 62, who works at an Akron auto dealership.
Glenville Thomas started the All-Ohio State Fair Youth Choir in 1963 to give the state's vocal music students an opportunity to share a musical experience similar to the celebrated All-Ohio State Fair Band. Singing was his life, and he wanted Ohio's young singers to have the same experiences he had.
Thomas, born in Wales, grew up in Cleveland and studied at Baldwin-Wallace, Capital University and Ohio State University. He performed as a featured classical tenor in New York before beginning his 36-year-career as a music director and educator in Zanesville.
During 26 of the 28 years that Thomas directed the All-Ohio State Fair Youth Choir, he also led choirs of young Ohioans on special concert tours singing at some of the most famous venues across Europe. He also arranged for several choirs to march and sing in the Macy's Thanksgiving Day parade in New York and in four Rose Bowl parades in California.
Through the years, his choirs sang in person and on TV with a host of celebrities, including Bob Hope, and performed in 1971 in the White House Rose Garden for President Richard Nixon. Then Ohio Gov. James Rhodes dubbed the choir "Ohio's Goodwill Ambassadors."
More than 8,000 singers from across all of Ohio's 88 counties performed with the fair choir under Thomas' baton before he passed away in 1991. Choral director Charles Snyder of Coshocton succeeded Thomas and continues to conduct the most recent versions of the All-Ohio State Fair Youth Choir.
For the upcoming reunion, more than 700 former Youth Choir singers have signed on so far to sing at the Aug. 2 and 3 reunion concerts at the Ohio State Fair. The reunion committee is hoping to have more than 1,000 singers participate, including those who have sung the last 22 years in choirs directed by Snyder.
"The All-Ohio State Fair Youth Choir is a time-honored tradition, and membership in this exclusive group is a point of pride for thousands of Ohio students," said Ohio State Fair General Manager Virgil Strickler in a statement. "We are thrilled to welcome the choir's distinguished alumni back to the fair for performances featuring what we hope will be a record-setting number of voices."
For reunion organizer Stewart, and for so many others, the reunion is something for many singers' "bucket list," that chance to sing together one more time with a group that had such a profound effect on their early lives, in tribute to the man who made it all possible.
"Glenville was that 'wow' teacher that most of us have had somewhere in our development," said Stewart. "He was always challenging you to do more, to do better. He challenged you to dream big. He taught us how to develop plans and never settle for mediocrity."
As for the Steel Valley's Lexso, he can't imagine missing the upcoming reunion.
"I saw how Mr. Thomas boldly went after whatever he thought was good for the choir, and that definitely influenced my life," Lexso said. "I wish Mr. Thomas was alive today so I could tell him in person how much he taught me."
All former All-Ohio State Fair Youth Choir singers wishing to perform with the special reunion choir August 2 and 3 at the Ohio State Fair are urged to register online at tributetoglenvillethomas.com or by emailing thevoicesofohio@columbus.rr.com. Additional information is available on Facebook at 50th Reunion/Tribute to Glenville Thomas.