Kidders' 50th celebrated with picnic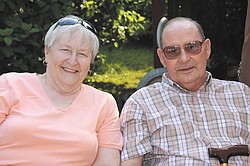 Photo
EAST LIVERPOOL
Mr. and Mrs. Bill Kidder of East Liverpool celebrated their golden wedding anniversary June 15 with a family picnic at their residence.
Their children are Laura (Steven) Swain of Rolling Prairie, Ind.; Dean (Ruth) Kidder and Michael (Nancy) Kidder, all of East Liverpool.
Grandchildren are Jared, Chad and Amber Swain; Dylan and Allie Kidder and Bill, Loni and Michael Kidder. A grandson, Andrew Swain, is deceased.
Navessa Sando and Abigail Spears are their great-granddaughters.
The former Judith Erickson married Mr. Kidder on June 15, 1963, at Ohltown United Methodist Church in Austintown.
Mrs. Kidder is a grief counselor at Dawson Funeral Home. She is a member of United Methodist Women and participates in church activities.
Mr. Kidder retired from Columbiana County Engineer Department.