Colonnas' 60th celebrated with family dinner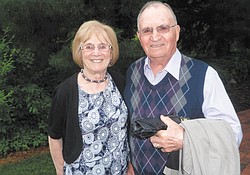 Photo
AUSTINTOWN
Mr. and Mrs. Joe Colonna of Austintown celebrated their 60th wedding anniversary June 6 with a dinner at Gervasi Vineyard and Italian Bistro in Canton.
It was hosted by their children Joe (Patty) Colonna of Hubbard; Theresa (Patsy) Iudiciani of Columbiana; Denise Sybelnik of Poland; and Diane (Tom) Walters of Canfield.
The couple have five grandchildren and five great-grandchildren.
The former Helen Tavolario married Mr. Colonna in 1953 at Immaculate Conception Church in Youngstown.
The couple are members of the church.
Mr. Colonna retired from U.S. Steel and General Motors. He worked as a boilermaker. He is a member of Chaney High School Football Hall of Fame and served as a U.S. Army paratrooper.