Golf tourney to benefit children's hospital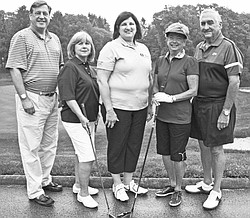 The Vindicator ( Youngstown)

Photo
Those involved in the Clubs for Kids Golf Classic stand in front of the green at the ninth hole at the Youngstown Country Club, in Liberty. The golf outing, a fundraiser for Akron Children's Hospital Mahoning Valley, is set for Aug. 2 at the country club. Organizers are, from left, David Todd II, committee co-chairman; Georgia D'Andrea, committee member; Dr. Elena Rossi, associate chairwoman of pediatrics at Akron Children's Hospital; Judy Schmutz, committee co-chairwoman; and Reid Schmutz, committee co-chairman. DUSTIN LIVESAY | SPECIAL TO THE VINDICATOR
Staff report
LIBERTY
The third annual Clubs for Kids Golf Classic will tee off Aug. 2 at the Youngstown Country Club, 1402 Country Club Drive. The event will benefit Akron Children's Hospital Mahoning Valley.
Patrons will register and have lunch at 11 a.m., and the golf tournament will begin at noon. The fundraiser will conclude with a cocktail reception, dinner, prize presentations and a silent auction. Team sponsorships and reception-only tickets are available but limited.
For information and to register call 330-746-9122 or visit www.akronchildrens.org/clubsforkids.
A youth clinic will be offered from 9 to 11 a.m. It will feature three stations for young golfers in three age groups: 6 to 8, 9 to 11 and 12 to 14. The clinic will include an observation station to focus on grip, stance, posture and alignment; a hands-on chipping and pitching station; and a putting contest.
The Clubs for Kids Youth Clinic will conclude with lunch, and each golfer will go home with a goodie bag and prizes. The cost is $10 per child.
Sponsors of the golf classic follow: Tod Family Foundation, youth clinic sponsor; Farmers National Bank, Farmers Trust and the Jane F. Lamb Foundation, cocktail reception sponsors; W.E. Bliss Foundation, dinner sponsor; Huntington Bank, corporate sponsor; Philip H. Maynard, corporate sponsor; Bob & Chuck Eddy Chrysler Dodge Jeep, lunch sponsor; Sweeney Chevrolet Buick GMC, lunch sponsor; and First Place Bank, Gasser Chair, Dr. Elena Rossi, Charlotte Gelhaar, Hanger Clinic, Harringon, Hoppe & Mitchell Ltd., Atty. James Gentile; Brouse McDowell, Olsavsky Jaminet Architects Inc., WKBN Television, Zachary and Zoe Simon, Northside Medical Center, Nicky Necastro Cancer Fund, Tech Tool Akron and Strollo Architects, team sponsors.
Members of the golf classic committee are Reid and Judy Schmutz and David Tod II, honorary chairs; Dr. John Babyak, Carole Bertolini, Cathy Campana, Betty Cmil, Julie Costas, Roseann Cullen, Georgia D'Andrea, Heather Davis, Carole Ann Drick, Dr. Robert Gerberry, Ray Jaminet, Gayle Kelly, Margaret Nigro, Raquel Pacheco, Dina Petracci, Dr. David Ritchie, Sperry Rongone, Dr. Elena Rossi, Debbie Shattuck, Lois Smith, Norma Smith, Joe Staffield, Gregg Strollo, Cheryl Tarantino, Pattie Welsh; and JoAnn Stock and Allison Engstrom, staff members.