Residents raise money for orphaned children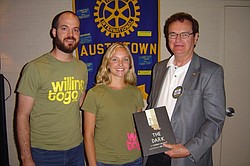 Photo
Neighbors | Submitted .Shown are, from left, Angelo Lamarca, Andi Lamarca and Ron Carroll, Austintown Rotary president.
Andi and Angelo Lamarca recently went to a remote village in Bgentchal, Togo, Africa. They went on a mission to bring their knowledge and art to 1,000 orphaned children.
These two young people were part of Mentor Leaders, a non-profit organization that has been working hard to establish clean water sources, education opportunities and medical assistance to what they called a "fifth world area" where the life expectancy is only 30 years of age, leaving many orphaned children.
Andi is a Teacher at Austintown Schools and Angelo is an artist working at OH WOW! Children's Center. Andi and her sister started a company by the name of Brown Horse Garments, which sells T-shirts with all the proceeds benefitting the work at Mentor Leaders, such as drilling for water wells in the Togo area. The cost of a well is $5,000.
There is a need for sponsorship of the orphans in order to feed them two meals per day. The cost of a sponsorship is $35 per month for a child. All the money raised goes to that purpose.
For more information, visit brownhorsegarments.com.