Niles' Krok commits to WVU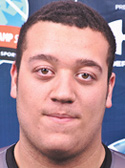 Photo
By Joe Scalzo
NILES
Here's Brian Shaner's quick scouting report on his massive offensive tackle, Josh Krok.
"He loves football, he loves the weight room, he loves to fish and he loves to eat," said Shaner, the head football coach at Niles.
If this sounds like a perfect West Virginia football recruit, well, that's because he is. Krok made it official on Wednesday, choosing the Mountaineers over several schools, including Louisville and Cincinnati.
"He was recruited by just about everybody in the country and he narrowed it to a couple, but a ton of schools wanted him to come in and work out and look at him," Shaner said. "He was just done with that and I agreed.
"His film speaks for itself, his body frame speaks for itself and he wanted to choose between those schools that believed in him and what they saw on film. It came down to where he felt comfortable and when it was time to pull the trigger, he did."
Like most linemen, Krok isn't exactly a spotlight-hog, admitting on a phone call late Wednesday night, "It's been a long day. I've had to talk [to reporters] all day. But it's been a good day.
"It's great not to have to worry about [college] anymore. I can just focus on working out and getting ready for the upcoming football season."
Krok (6-foot-9, 300) was a first-team, all-conference lineman for the Red Dragons last season, who went 8-3 and lost in the first round of the playoffs, His grandfather, John Krok, was a standout at Niles and later earned All-America honors at Syracuse, where he played with future NFL Hall of Famers Larry Csonka and Floyd Little.
"I have a pretty big family and we spend a lot of time together, so I get to hear a lot of stories," Krok said of his grandfather.
Not surprisingly, his big family isn't limited to numbers. While his parents aren't huge — his dad is 6-3 and his mom is 5-6 — he's got taller relatives on both sides. And while most 6-9, 300-pound high school kids trip over their own shoelaces, Shaner marvels at Krok's footwork.
"What stands out is his mobility," Shaner said. "He's got great feet, feet that I haven't seen from an offensive tackle. He's strong, he's a 375-[pound] plus bencher and he's got a wide wing span.
"He's everything colleges are looking for, but he's everything the guys playing on Sundays are looking for, too."
Like a lot of Division I prospects, Krok didn't take his academics seriously enough early in high school, but Shaner said the "light has come on." He's enrolled in private tutoring classes for the ACT and his grades have improved.
"He knows no matter what you do, academics have to be No. 1," Shaner said.
Shaner doesn't have to worry about much else. Krok is a low-maintenance athlete who splits his days between football and fishing.
"That's a great thing to worry about with a kid, whether he's over-fishing," Shaner said, laughing.