LeBron powers Heat to second straight NBA title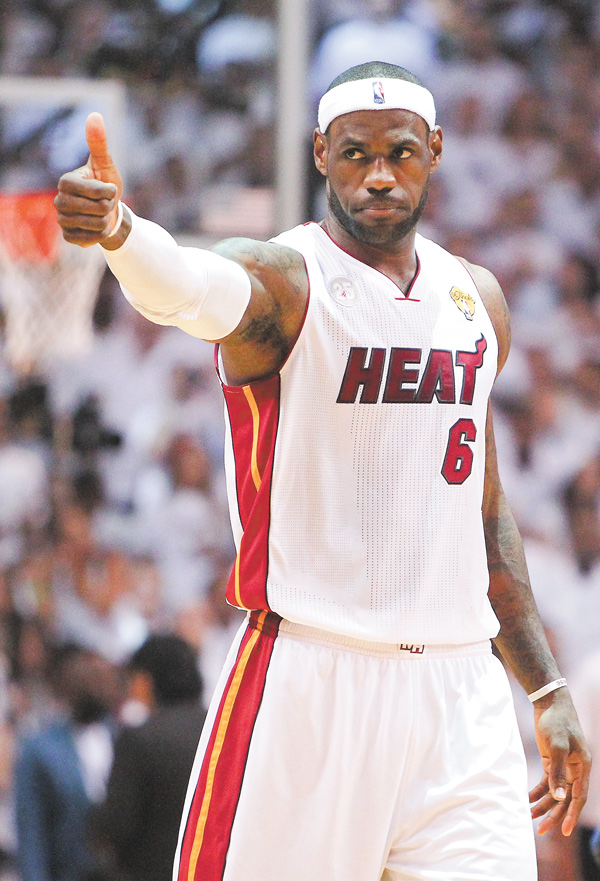 ---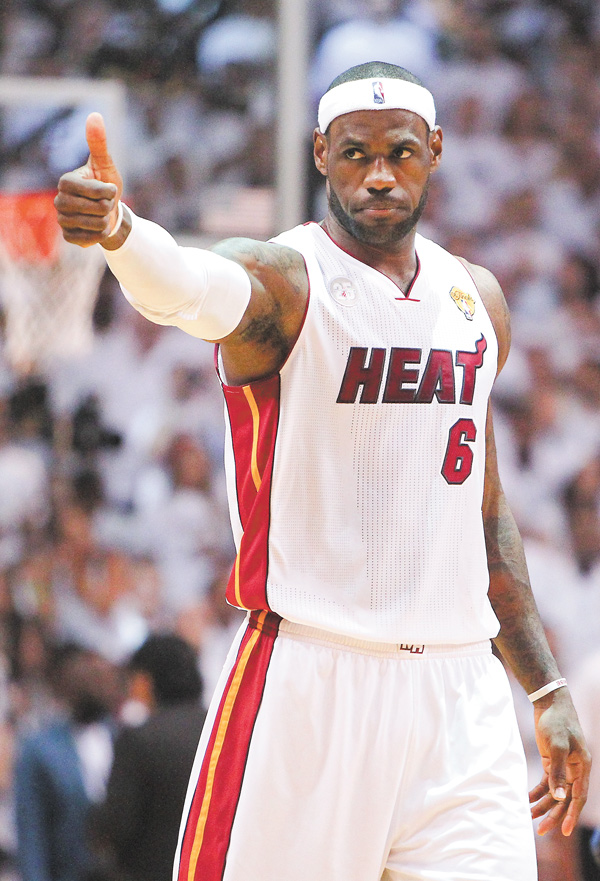 Photo
LeBron James had 37 points 12 rebounds, four assists and two steals to lead the Miami Heat to back-to-back NBA titles on Thursday against the San Antonio Spurs at American-Airlines Arena in Miami. The Heat downed the Spurs, 95-88, to finish the series 4-3.
RE-HEAT: JAMES GANG OUTLASTS SPURS FOR BACK-TO-BACK TITLES
Associated Press
MIAMI
LeBron James had 37 points and 12 rebounds and the Miami Heat repeated as champions with a 95-88 victory over the San Antonio Spurs in Game 7 of the NBA Finals on Thursday night.
Dwyane Wade added 23 points and 10 rebounds and Shane Battier scored 18 points on 6-for-8 shooting from 3-point range for Miami. James made 5 of 10 3s, all the while hounding Spurs star Tony Parker on defense to make the Heat the first back-to-back champs since the Lakers in 2009-10.
Tim Duncan had 24 points and 12 rebounds for the Spurs, who were trying to become the first road team to win a finals Game 7 since Washington in 1978. Kawhi Leonard added 19 points and 16 rebounds.
Mario Chalmers scored 14 for Miami.
Parker had 10 points on 3-for-12 shooting and four assists, and Manu Ginobili scored 18 points for the Spurs. San Antonio lost for the first time in five finals appearances.
The Heat led just 72-71 going into the fourth quarter after a buzzer-beating 3-pointer by Chalmers. Battier hit his fifth 3 of the night and Chalmers scored on a layup for a 79-75 lead with 7:30 to play, but the proud Spurs never faded.
The Spurs missed seven of their first 10 shots and turned the ball over five times in the first seven minutes of the fourth quarter, with the heart-breaking loss in Game 6 finally taking its toll.
Duncan's turnover led to Battier's sixth 3-pointer, a corner dagger that gave Miami an 88-82 lead with 3:21 to go. The delirious Heat crowd leapt to its feet, sensing another Larry O'Brien trophy presentation in South Beach and they didn't sit down for the rest of a thrilling finish.
Leonard's 3 made it 90-88, but Duncan missed a putback and James knocked down a 19-foot jumper with 27.9 seconds to go, sealing the victory as the fans chanted along to the White Stripes' "Seven Nation Army," a trademark celebration at American Airlines Arena.
Confetti rained down the court, and James was surrounded by teammates and clicking cameras after a tour-de-force finish.
Danny Green, for five games the favorite for finals MVP thanks to his record-setting 3-point shooting, missed his first eight shots and finished with five points on 1-for-12 shooting, while Game 6 hero Ray Allen was 0 for 4 with three turnovers for Miami.
The Heat have been to three straight finals, just like they envisioned when Pat Riley brought James, Wade and Bosh together three summers ago. But it's been anything but easy for the NBA's latest super team. They lost to Dallas in 2010, suffering the final defeat in Game 6 on their home floor, then rebounded to steamroll the Oklahoma City Thunder last season.
This regular season was shaping up as a coronation more than a competition, with the Heat rattling off 66 victories, including a staggering 27 in a row. They entered the playoffs with an air of invincibility, but were pushed as hard as they've ever been.
In the proud Spurs, they faced an aging core that simply wouldn't give in, which had to make this victory their most satisfying yet.
The Heat were all but eliminated on Tuesday night, down 13 points at the start of the fourth quarter and five with 21 seconds to play, with the home fans streaming out of American Airlines Arena. Then James hit a 3, Ray Allen hit another, and the Heat outlasted San Antonio in overtime to keep their hopes of defending their title alive.