Austintown car cruise unites 'car people' every Tuesday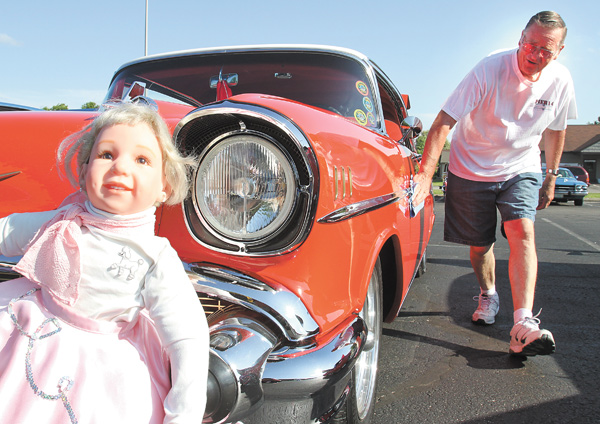 ---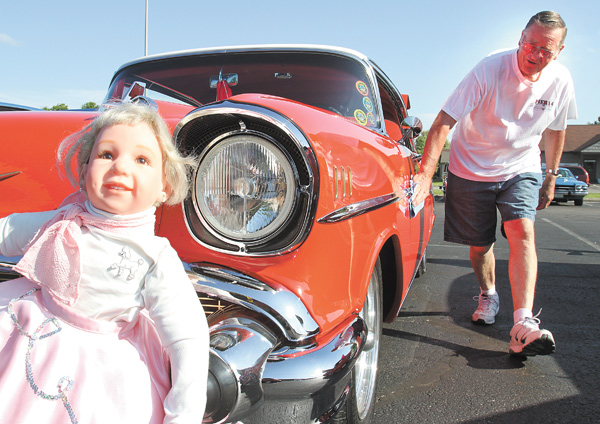 Photo
Jerry Apger of Lordstown shines his 1957 Chevrolet while "Barbie," a doll that rides in the back seat of his classic car, sits on the front bumper during the Senior Center Car Cruise in Austintown.
By Kalea Hall
Austintown
For the love of all cars and car- loving people, more than 100 classic, modified and even newer models packed the parking lot of the Austintown Senior Center this week.
From 6 to 9 p.m. every Tuesday this summer, as long as it does not rain, residents of Austintown and elsewhere park their cars and let them shine at the weekly car cruise sponsored by the Mahoning Valley Olde Car Club at the center, 112 Westchester Drive.
"The enthusiasm for this car cruise is fantastic," said Rich Posivak, chairman for the cruise and member of the club.
The cruise used to take place at Chick-Fil-A in Boardman, but this summer, the decision was made to move the cruise to Austintown. The Mahoning Valley Olde Car Club members have been setting up cruises for the past 34 years. All the proceeds from
charging an admission fee go to local organizations, such as Hospice of The Valley or local children who suffer from illness.
At the senior center car cruise, three prizes are given for the top cars at the show that are registered.
"We don't look for anything in particular," Posivak said. "We keep it fair for everyone here."
Walking around the parking lot, there is a variety of vehicles from Chevrolet Bel Airs to Ford Galaxies that come to the cruise every week. All of the cars shine, and all of them have unique characteristics of colors, grooves, taillights and some added toy accessories.
"[Accessories] get you awards," said Tim Gretsinger, 61, of Boardman.
From across the parking lot, it is easy to spot the mammoth stuffed white bear that sits in the back seat of Gretsinger's 1961 Ford Galaxy and has been there for the past 15 years. Ever since Gretsinger's stepdaughter brought the bear home from a carnival, it has been his passenger and attracts the children and even adults to take a look at his restored Corinthian white Galaxie. Gretsinger goes to a car show almost every night, not just to show off his car, but because it has become his social life.
"I love cars," Grestinger said. "I love being around them and car people."
Another car lover, Jerry Apger, 70, of Lordstown also brings an added accessory to display with his 1957 Chevrolet Bel Air four-door hard-top. Resting at the front of his classic car is a life-size child doll dressed in a poodle skirt.
"She likes to go to the car shows," Apger said.
Jim and Peggie Quinn of Canfield do not bring an accessory to go with their 1952 red Ford truck, but the restored vehicle still captures attention just like the others.
"It sat in the yard as a rusty piece of junk, and I said [to Jim], "restore it or junk it," Peggie said.
Jim got to restoring the former green rust-bucket to what it is today. Peggie is still amazed by the transformation. The Quinns also have a restored 1949 Mercury convertible and a 1932 Ford coupe that they have yet to bring out to the car cruise they both love.
"The people are very friendly, and it's really nice," Peggie said.
The winter makes the Quinns and the other "car people" antsy for the snow to melt and summer to come. Then they can take off their car covers, see their friends at the car cruises and check out their cars.
"It's neat to see what they have done in their garages over the winter," Peggie said.
In addition to the weekly Austintown Senior Center car cruise, the Mahoning Valley Olde Car Club hosts a car cruise from 9 a.m. to 5 p.m. Aug. 4 at Boardman Park. A portion of the proceeds raised will benefit a sick child. Go to mvocc.com to get information on the car cruises.