Jack Arvin Classic: Mahoning holds off Trumbull's late rally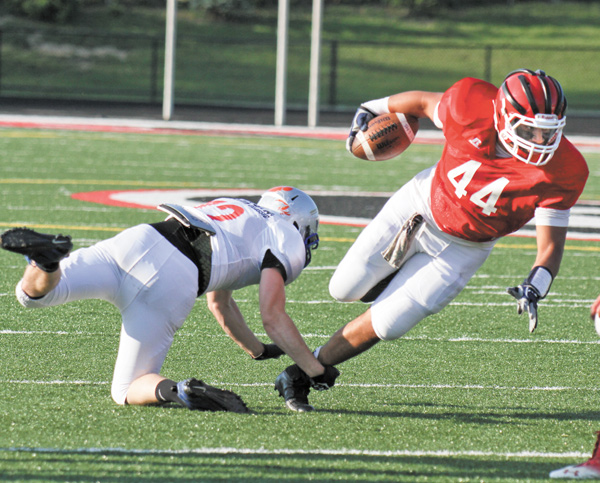 Photo
Mahoning's David Stewart (44) of Struthers is tripped up by Trumbull's Brandon Harb (12) of Hubbard during the first half of the 29th Jack Arvin Football Classic on Thursday at Girard's Arrowhead Stadium. Mahoning defeated Trumbull, 34-26.
Mahoning holds off Trumbull's late rally
By Joe Scalzo
GIRARD
Austintown Fitch quarterback Matt Futkos hadn't played in more than seven months, but he said it only took one play to shake off the rust.
"Once we ran that first play, everything just went out the window and I started playing again," said Futkos, a Clarion recruit who quarterbacked Mahoning County to a 34-26 victory in Thursday's Jack Arvin Football Classic at Arrowhead Stadium. "I just went back to what I do."
Futkos ran for 142 yards and three TDs to earn MVP honors and his interview skills were in regular-season form, too. Futkos made sure to praise his offensive line ("I couldn't do it without my line") and his running backs ("They're a great group of guys and they took the pressure off me") and even downplayed the MVP award ("Just getting the win, that's what I like the most").
Behind a game plan straight out of the 1930s, Mahoning jumped out to a 26-7 halftime lead before Trumbull made a game of it late thanks to Howland quarterback Eric Lockney's right arm.
Lockney completed 10 of 16 passes for 239 yards and two TDs, including a 50-yarder to Lakeview's Elijah Henderson that cut the deficit to eight points with 1:57 left.
"The coaches told me to first look to the trip [three wide receiver] side but I saw Henderson one-on-one and I knew I just had to look off [the defensive backs] left and come back to him and he'd make a play," said Lockney, who was named the Trumbull MVP.
Trumbull defensive lineman Trevor Watson (Lakeview) recovered a Mahoning fumble on the ensuing play, but Fitch's Keith Lawrence intercepted Lockney's first pass to end the threat. Trumbull got the ball back on the Mahoning 35 with a minute left but Lockney's first three passes fell incomplete and East's Tra-vail Scott finished off the win with a sack, his second of the game.
"Mahoning has dominated this game in previous years and as you can see, we put up one hell of a fight," said Lockney, who plans to walk on at YSU. "It was definitely exciting."
Struthers running back David Stewart ran for 66 yards and Mooney's Justus Ellis-Moore added 62 yards and a TD for Mahoning, which didn't attempt a pass. Trumbull, meanwhile, had 239 yards passing.
"We saw two different games out there, didn't we?" said Mahoning coach Jeff D'Altorio of Lowellville. "When you have five tailbacks that rushed for over 1,000 yards [last fall], we knew we were going to run the heck out of those guys.
"The offensive line basically said, 'Hey coach, let's keep pounding the heck out of them.'"
Henderson caught four passes for 99 yards for Trumbull while John Helms added four catches for 63 yards, including a juggling 36-yarder in the fourth quarter on which he got plastered at the 2-yard line. Niles' Tommy Duffy scored on the next play.
Helms actually caught it with a broken finger, which he suffered in the second quarter.
"I shook it [the injury] off," Helms said. "It's football. It happens."
McDonald's Christian Rusinowski added a 39-yard TD catch in the second quarter for Trumbull.
When asked about the very un-Dick Angle-like game plan, Lockney laughed and said, "It was great to air it out a little more but when you've got a running back at Howland like [Michigan recruit] De'Veon Smith, you've got to get your playmaker the ball."
The game also featured two defensive touchdowns.
Lowellville's Geno Moore picked off a tipped Lockney pass and returned it 45 yards to give Mahoning a 20-0 lead on the last play of the first quarter. And Warren Harding's Roger Craig recovered a fumble in the end zone on the first series of the second half.