YSU, HMHP unite for new medical education facility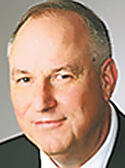 ---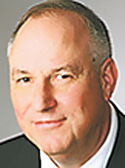 Photo
By Denise Dick
Youngstown
Humility of Mary Health Partners would secure any debt associated with a shared clinical and medical education facility with Youngstown State University.
Such a facility — a possibility by 2017 — would house YSU's nursing and allied professions classrooms, including simulation labs and clinics. The new building could be between 80,000 and 120,000 square feet with the estimated price ranging from $20 million to $30 million.
It's still in the planning phases, but James Schultis, president of the HMHP Foundation, said the entities are looking at sites between YSU and the main HMHP campus.
"It would kind of connect those two campuses," he said.
Late last year, both YSU trustees and the HMHP board approved resolutions of support for the university and the hospital system to work to raise money and explore the possibility of such a multiuse facility.
R. Scott Evans, YSU vice president for university development, told university trustees last month that both entities are running out of space. Expanded class sizes in health sciences have created a need for more classrooms. An auditorium and clinic space at HMHP is in a dated, repurposed space while demand for services has increased, according to a document detailing the rationale for the collaboration.
Schultis said meetings with community leaders and philanthropists to determine support for the project will be scheduled when more details are finalized. That will likely run through the end of this year and if it goes well, will be followed by a full year of fundraising with the hope that the facility would open in 2017.
"It's a wonderful collaboration, working for the benefit of the community," he said.
In an April 10 letter to YSU President Cynthia E. Anderson, Robert W. Shroder, HMHP president/CEO, wrote that a shared debt structure would be legally and financially cumbersome.
"This means that HMHP will attempt to secure whatever debt, if any is needed," Shroder wrote. "HMHP then, would own the building. YSU would lease the portion of the building that it requires. Second, YSU and HMHP will partner fully on the fundraising for the building."
Evans told YSU trustees that the lease would be structured so YSU incurs no debt.
Schultis said HMHP is always interested in hiring the best nurses it can and though there isn't a shortage, there isn't a surplus either. With nurses leaving the system through attrition – about 10 percent annually — HMHP could hire every nurse that graduates from YSU, he said.
Besides classrooms and simulation labs that allow students to practice procedures, the proposed facility also would include a clinic where residents would be trained.
"I'm pretty excited about it," Schultis said. "There's so many positive attributes for the city. It's jobs, it's education, medical care and medical training. It's a time when two large institutions are working together and that really says a lot about YSU and the people there. They've been great."