Teddy's torturer admits his guilt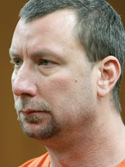 ---
By Joe Gorman
YOUNGSTOWN
Unlike the verbal abuse he was accused of heaping on the 14-year-old boy he pleaded guilty to murdering, Zaryl Bush said only five different words Wednesday in Mahoning County Common Pleas Court.
Bush, 42, of Creed Street in Struthers, said only "yes, your honor," "no, your honor," and "guilty" as he entered pleas before Judge R. Scott Krichbaum for the Jan. 26 death of 14-year-old Teddy Foltz and abuse of his 10-year-old twin brothers.
He pleaded guilty to charges of murder, four counts of child endangering, two counts of intimidation and a count of tampering with evidence and will be sentenced sometime next week.
In contrast to the mother of the boys, Shain Widdersheim, who pleaded guilty to charges Monday that she allowed the abuse to happen and sobbed and shook the entire time, Bush was stoic as he answered Judge Krichbaum's questions and entered his pleas.
Afterward, Struthers Detective Jeffrey Lewis said it is the worse case he has ever investigated in his 19 years in law enforcement.
"This is the worst story I've ever been told," Lewis said. "He [Foltz] was beaten and tortured almost every day of his life. I can understand how people can say he [Bush] cannot serve enough time for this case."
Lewis and Assistant Prosecutor Becky Doherty both said that besides physical abuse, Bush also verbally abused the boys. Lewis said Bush went so far as to threaten the boys with shooting them if they ever told anyone what was going on.
"The kids were too afraid" to tell anyone, Lewis said.
Doherty said the abuse Bush piled on the three boys was constant. Teddy was made to stand outside in freezing weather, and Lewis said a neighbor told police Bush put hot coals in a garden and made the boys walk over them. Foltz had signs he was exposed to the cold weather when his autopsy was done, Doherty said.
"Teddy had frostbite on his feet when he died," Doherty said.
Doherty also said the case is one of the worst she has prosecuted because of the ongoing nature of abuse and type of abuse.
"Teddy was not just physically abused. He was emotionally abused," Doherty said. "There was name calling constantly. There was a total disrespect for his life. He was really nothing to this man. He was just someone to punch."
Doherty said prosecutors are recommending a sentence of 22 years to life. The murder charge carries a maximum sentence of 15 years to life in prison with parole eligibility after 15 years. If he received a maximum sentence on all counts, Bush could receive a sentence of 41 years to life in prison.
Judge Krichbaum said he will wait until next week to sentence Bush because he wants to analyze all the evidence and documents in the case to help him come up with an appropriate sentence.
Judge Krichbaum also explained to Bush — as he does to every person who enters a guilty plea — that he is not bound to accept the sentencing recommendation and he also told Bush it was up to the parole board to decide when or if he would be released on the murder charge.
Police say Bush beat Teddy on Jan. 21 and when his mother found out, she took him to St. Elizabeth Health Center Boardman Campus. From there, he was transferred to the main St. Elizabeth campus, where he died Jan. 26 as police were investigating.
The coroner's office has said that Teddy died of blunt- force trauma to the head.
Lewis said that Bush had taken bloody clothing from his home where Teddy was beaten to Widdersheim's home, also on Creed Street, to try and fake a crime scene, but his DNA got mixed in with the bloody evidence he tried to leave behind.
Lewis said contrary to opinion, police were called only twice in regard to Bush and the boys; once, a neighbor heard Bush yelling at the boys while they were working outside and another time for noise in his back yard. Both times, officers were dispatched and could find no signs of Bush or the boys.
Lewis said that officers could not enter the home unless they had a warrant or probable cause that a crime was being committed.
Earlier in 2012, the boys were pulled out of school and home schooled by Widdersheim after school officials noticed signs the boys were being abused.
That abuse was reported to the Mahoning County Children Services Board, but police were never contacted in that case, Lewis said. He said police did not get the case again until Teddy was in the hospital with the i njuries he suffered from his fatal beating.